I realize that serving food and drinks in mason jars is nothing new, but with football season in full swing, I think mason jars are such a great way to bring almost any type of food to a tailgating or football watching party! The beauty of using mason jars is that they are easily transportable and you can prep everything ahead of time so it's ready to serve as soon as you get there. Put your jars in a cooler with some ice and you're ready to roll.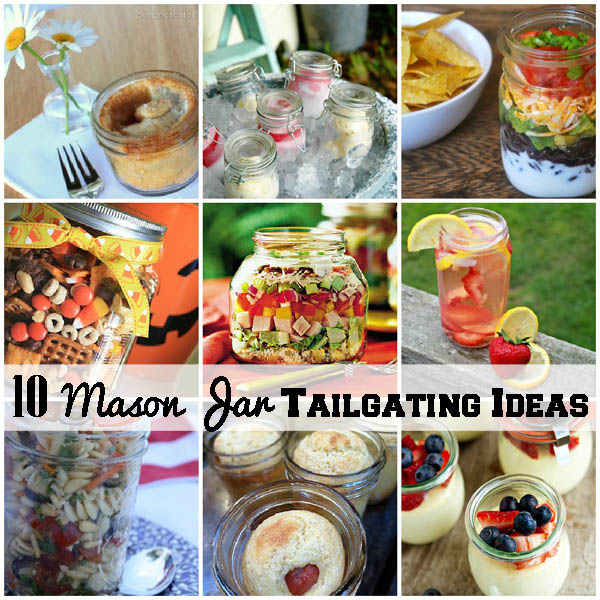 I've gathered 10 great mason jar tailgating food ideas for you to use at your next party.

Everyone loves a mexican layered dip at parties, so serve it up in individual mason jars for everyone to enjoy. Recipe and image via Savvy Mom.ca.

This layered cornbread and turkey salad from Southern Living would make a great salad or main dish.

Homemade pasta salad from StoneGable – another crowd pleaser!

Kids will absolutely love these corn dogs from Big Red Kitchen.
Cheesecake served with fresh fruit in a jar from My Baking Addiction – who can resist that???

Any type of pie served in a mason jar is the perfect fall dessert, especially apple or cherry from Our Best Bites.

And how about some ice cream to go with that pie? From Pen N' Paper Flowers.

With Halloween not too far away, a Halloween snack mix from Munchkin Munchies would be fun, but of course you can make any kind of sweet and salty snack mix that's perfect for serving in mini mason jars.

You can't go wrong with a delicious strawberry lemonade from Our Shabby Nest.
Or how about a yummy blended drink from Beauty and Bedlam – delish!
Now…which one are you going to bring to your next tailgating party? Or maybe you have a favorite mason jar food idea…I'd love to hear in the comments below!