Thanks to Glory at Glorious Treats, I've been dying to try making a dessert in a jar. She always has the most delicious recipes and desserts just look cute in a jar, don't they?!
When I went to the grocery store this weekend, it was bursting with peaches – a delicious summer fruit to use in a yummy treat, so I made Peach Yogurt Parfait's. This dessert would be perfect to take to a picnic or barbeque at the park because they're easily transportable and don't take much time to make.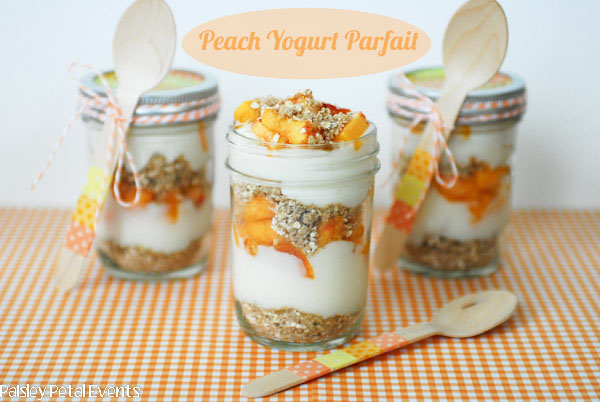 I'm still on my washi tape craze and decided to make our mini mason jars even cuter by adding some washi tape to the lid, and of course, to some utensils to match.

To make these fun jars, you need some 1/2 pint size mason jars with lids, washi tape, twine, and wooden utensils. Cover the lid with washi tape in whatever colors you wish, and if it matches your dessert, even better!

Then decorate your utensils to match.

Now all you have to do is fill your jars. I used granola, vanilla yogurt and fresh peaches for my treat, but you can use any fruit and yogurt combination you'd like. Filling them with alternating cupcakes and frosting would be delicious as well!


Lastly, tie your spoon to your jar with some coordinating baker's twine and set out for people to enjoy!
I have a feeling I'm going to be making lots more desserts in a jar – they were so much fun to make AND eat! Do you have a favorite dessert in a jar? Please share…I'd love some more ideas!
Tune in on Monday for a really fun giveaway! Here's a hint…it's something I've used in this post and in many posts lately 🙂 I can't wait!!