I think I've mentioned before that I'm the Room Mom for my 1st grader's class and I love it!  What's not to love about planning parties, right??!!  So I've been trying to figure out what we're going to be doing for our Valentine's Day Party and I thought I'd share with you some ideas for school parties, in case you're helping with classroom parties as well!
Okay, I know this first activity isn't very original, but the kids just LOVE to decorate sugar cookies, so that's one of the activities we'll be doing.  Give the kids 2 cookies each to decorate, adding their own frosting, sprinkles and candies.  You could have pink, red and white frosting to mix it up a little bit and of course your local grocery stores will have tons of sprinkles and Valentine's Day candy to decorate the cookies.

You also have to have a craft or two, right??  I decided we'll be making these cute conversation heart pencil toppers I found on Disney's Family Fun website.  I thought they were fun and practical too!
Here are some other craft/activity ideas…

A Valentine's Day candy necklace would be fun!  This idea is also from Disney's Family Fun website.

These lollipop flowers from All You are simple and cute!

I thought these tissue paper flowers from Kaboose would be great for the kids to make and give to their mom's.
Now for some games…
We are going to play a couple of games with conversation hearts.  For the first one, the kids will use chopsticks to see how many small hearts they can move from a large container to their plate/bowl in a certain amount of time (1-2 minutes).  Whoever has the most hearts at the end is the winner.

The second game is to see how many large conversation hearts the kids can stack on top of each other before the tower tips over!  The tower has to stand for 3 seconds and whoever has the most hearts in their tower wins.

Picture above and ideas are from One Charming Party.
Bingo is another favorite for younger children and here are a couple of free printable Bingo cards you can use.  Small conversation hearts, candy corns and M&M's make great markers.

Sweet Shop Bingo from Birthday In a Box

Valentine's Day Bingo from Simply Fresh Designs

I thought this Valentine food pair game by B. Nute productions would be fun too.
You've all probably heard of the game "Don't Eat Pete"…I've never played it, but I hear it's a HIT with the kids.  To play, you put a small snack or piece of candy (I'll be using M&M's) in each square.  One person leaves them room and everyone else decides which square is going to be "Pete".  Then the child comes back and starts eating the candies one at a time.  When he eats the candy on the chosen square, everyone yells "Don't Eat Pete!"
I found a couple of free, printable Don't Eat Pete games for Valentine's Day.  We'll be playing this at our party…I just haven't decided if I'm using one of these, or making my own with scrapbook paper…we'll see how organized I am!!

LOVE this colored heart one from Smitten Blog Designs
Don't Eat Val with cute doggies from Tip Junkie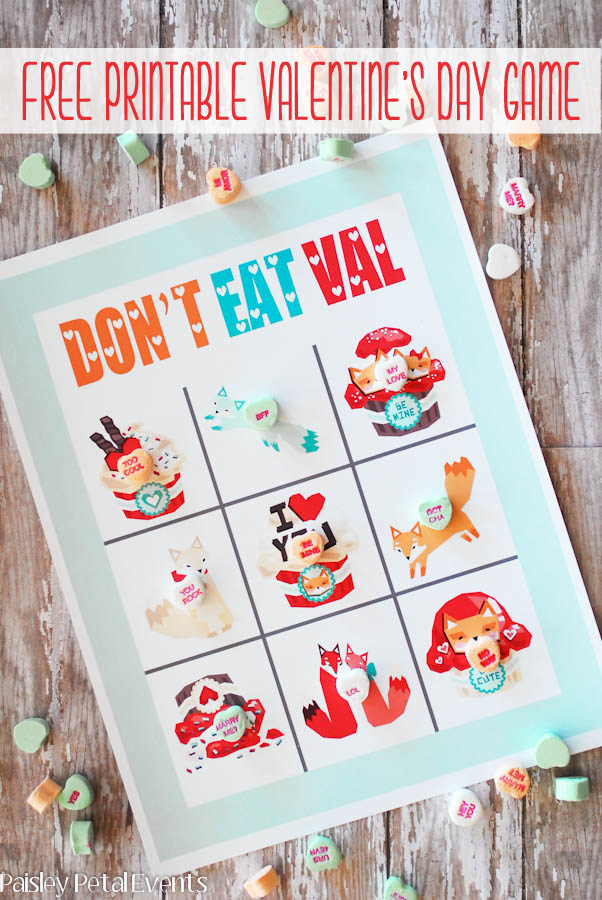 I recently made my own version of Don't Eat Pete for Valentine's Day and you can download it HERE!
Do you guys have any fun games or crafts that would be great for school parties?  I'd love to hear about them!!