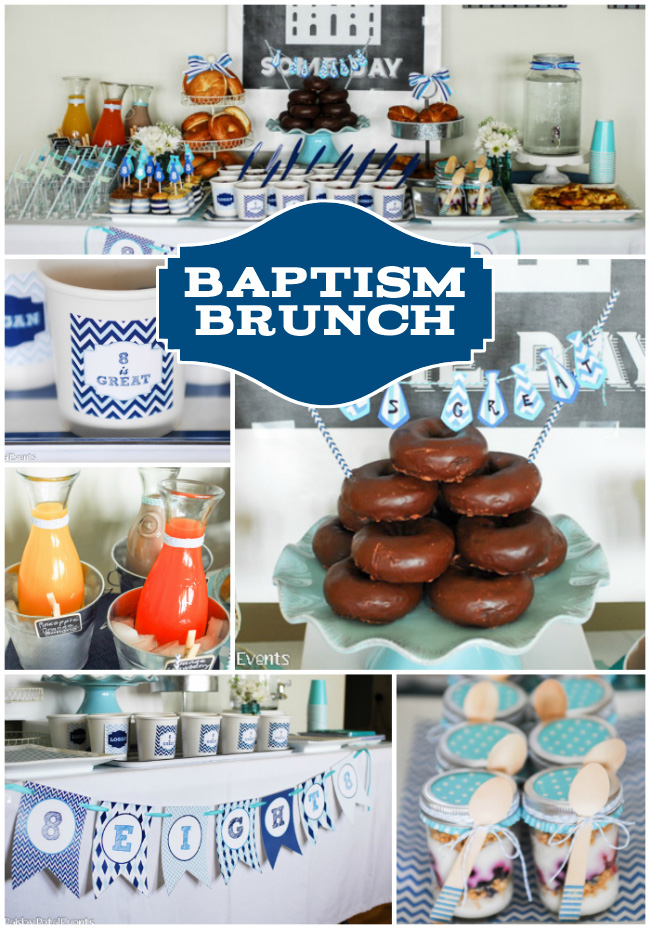 For today's post you get another party from last year…I'm slowly getting them all posted – I might only have about 3 more to go! Today I'm sharing my son Logan's Baptism Brunch. In our church, kids are baptized when they turn 8 years old and his baptism was held in the morning, so a baptism brunch only seemed appropriate. I was actually really excited because I haven't done a brunch event before. I chose different shades of blue and aqua for the color scheme with neckties adding a fun element to the food table.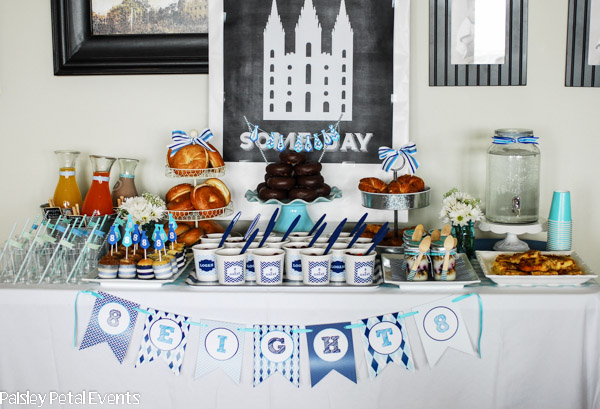 At the back of my food table, I created a black & white chalkboard print with the shape of a temple on it and the words "I'm Going There Someday" as a reminder of what the kids should be looking towards. This large black and white image can be printed for only a few dollars at print shops with engineering prints available (such as Staples).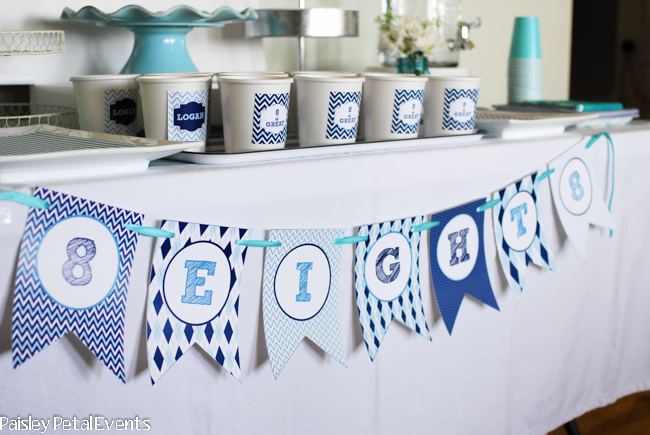 I created a printable banner spelling out the number 8 to drape across the front of the food table.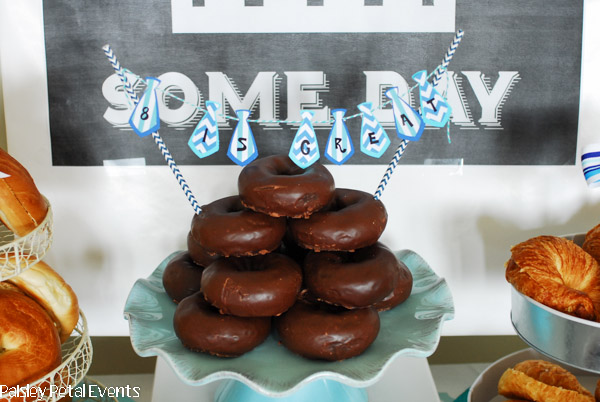 At the center of the food table was one of Logan's favorite treats – a donut cake on my favorite aqua ruffled cake plate, along with a mini necktie bunting which said "8 is Great". I'll share how to make this cute little bunting tomorrow.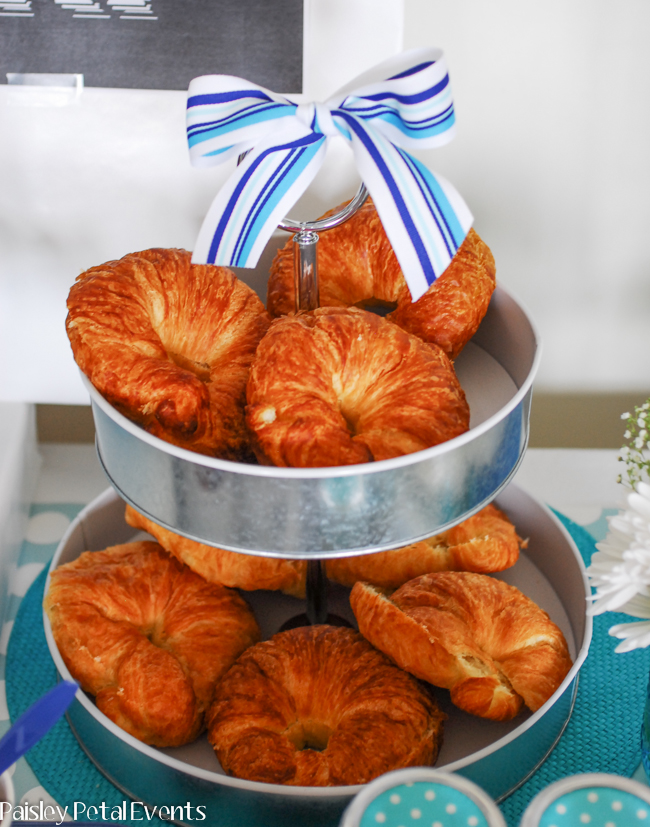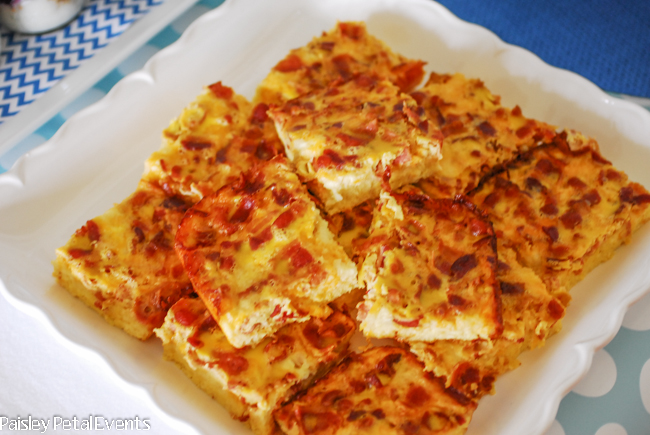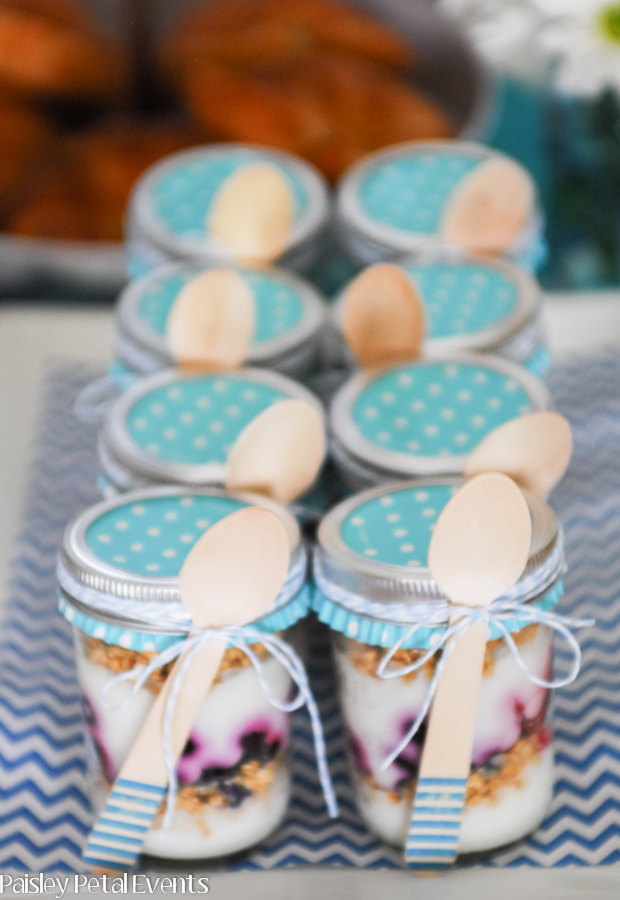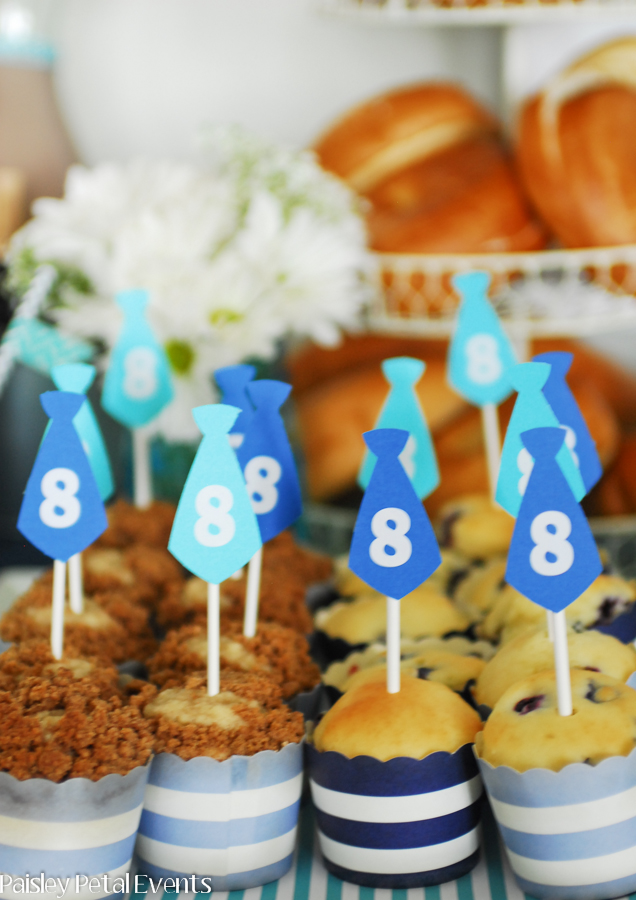 At our brunch we served a breakfast casserole on your choice of croissants or bagels, fruit and yogurt parfaits in mini mason jars and homemade muffins with necktie toppers.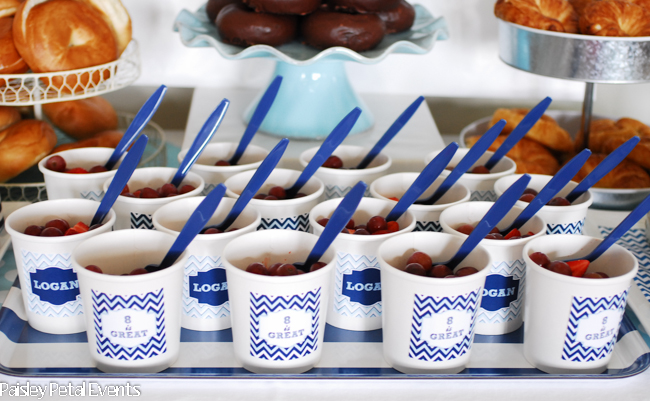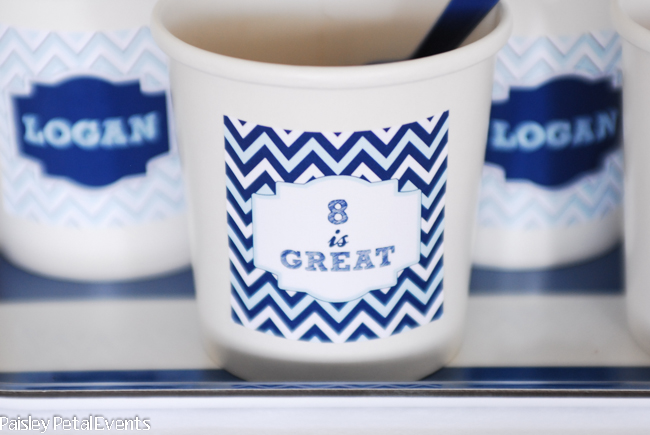 We also served fruit in white paper cups and I made a little sticker to go on each cup that coordinated with the banner.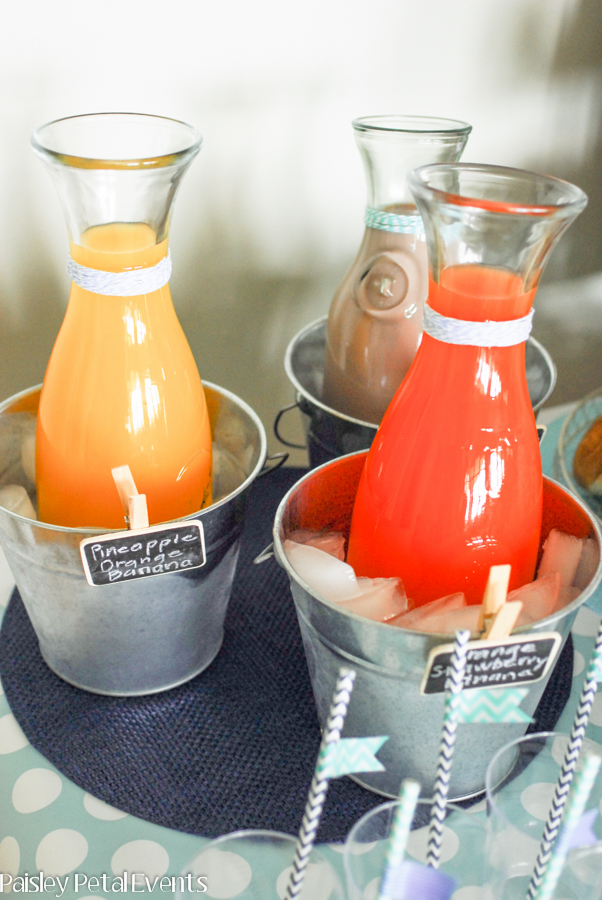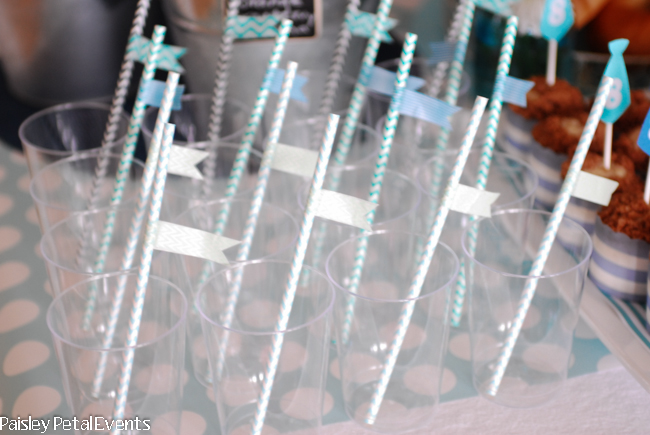 Guests could choose from a couple different juices and chocolate milk to drink – Logan's favorite! Drink cups were adorned with a matching straw & washi tape flag.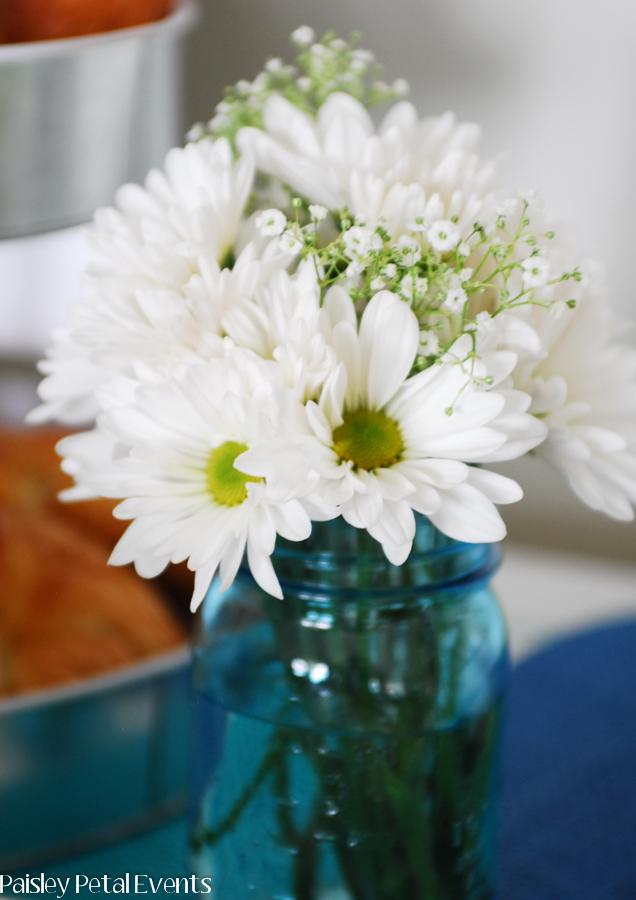 I added 2 blue mason jars filled with white daisies to the table for a little warmth.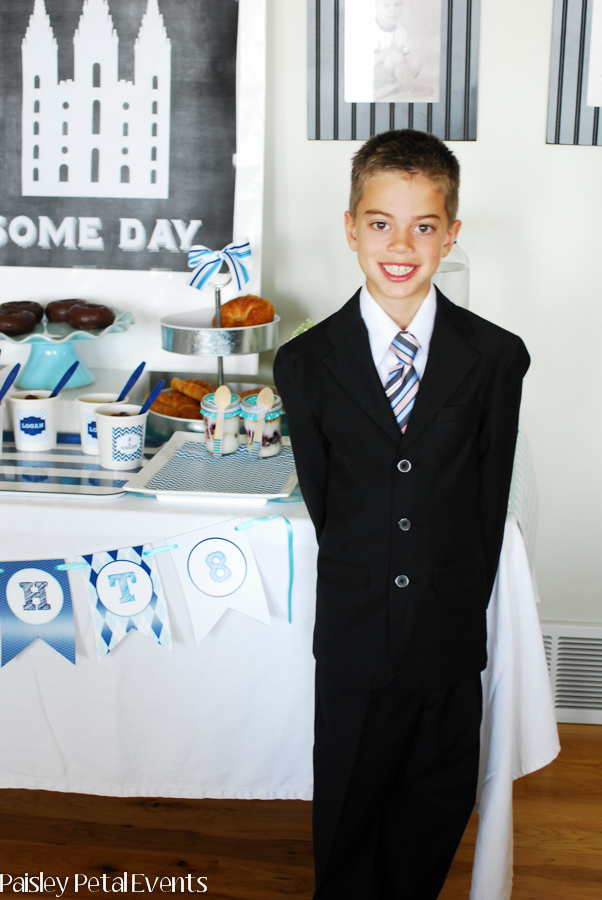 And here's my sweet Logan on his special day – smiling big, as always 🙂
If you're interested in a PDF of the EIGHT banner or the black & white temple print, let me know in the comments below, or shoot me an email – [email protected] and I'd be happy to send you the files!