Debbie at Wants and Wishes Design and myself must have the exact same style because I always LOVE everything she creates and this Modern Neon Merry and Bright Christmas collection is no exception! I absolutely adore the color scheme she chose – I'm totally into bright neon – it's such a fun and whimsical departure from your traditional red & green Christmas colors.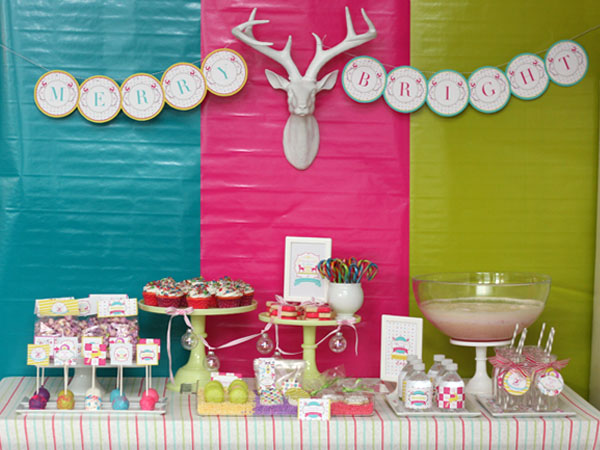 Debbie created the color blocked backdrop for this bright party using wrapping paper from IKEA – .99 per roll – you can't beat that! Then she added the white faux deer head to the center and hung the Merry & Bright banner from the antlers.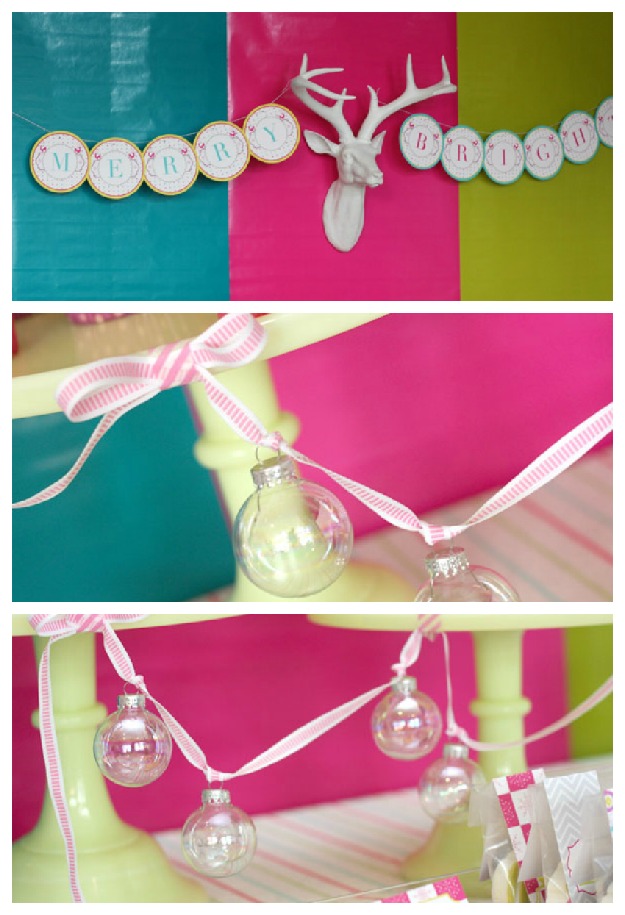 To add some softness to the table, she created a mini ornament bunting and strung it between the cake plates – darling!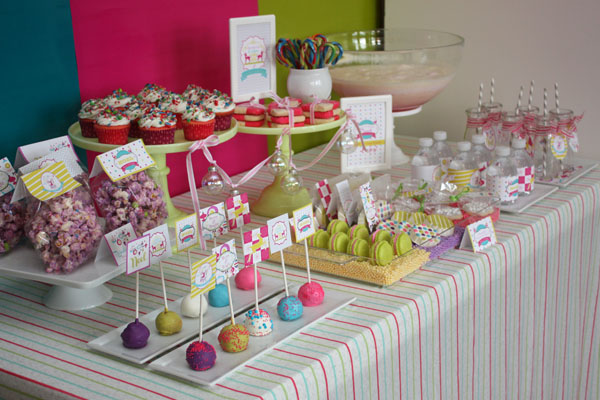 All sorts of yummy desserts were displayed on the table. Debbie really wanted the bright colors and patterns to be apparent.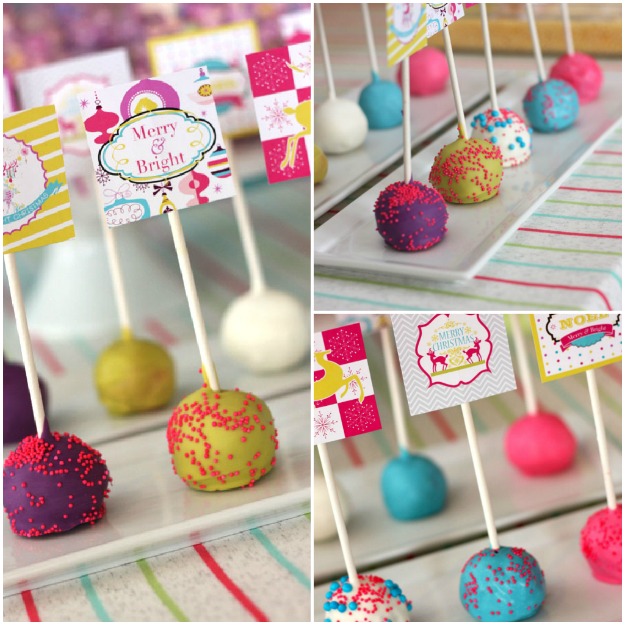 Delicious cake pops adorned with square toppers. Debbie is such a talented designer…I think all of the printable party elements she created are just fabulous!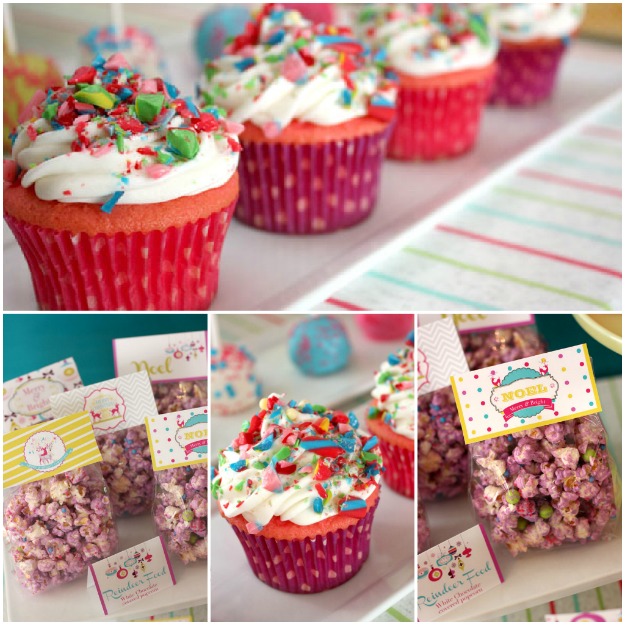 Yummy Reindeer Food was created with bright purple chocolate covered popcorn and sweet candy mixture. Cupcakes are made pretty by adding crushed candy canes to the top of the white frosting.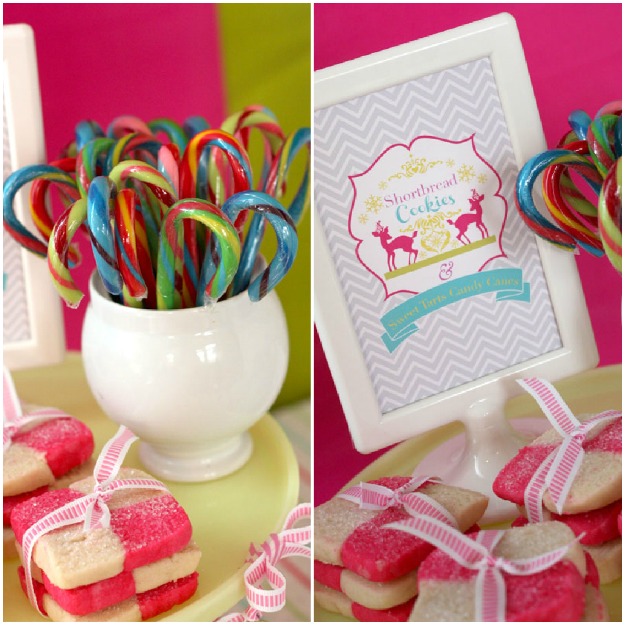 Beautiful checkerboard shortbread cookies are nicely displayed by grouping them together and tying with a pretty ribbon. Did you notice the cookies coordinate with one of the patterns in the collection? Love it!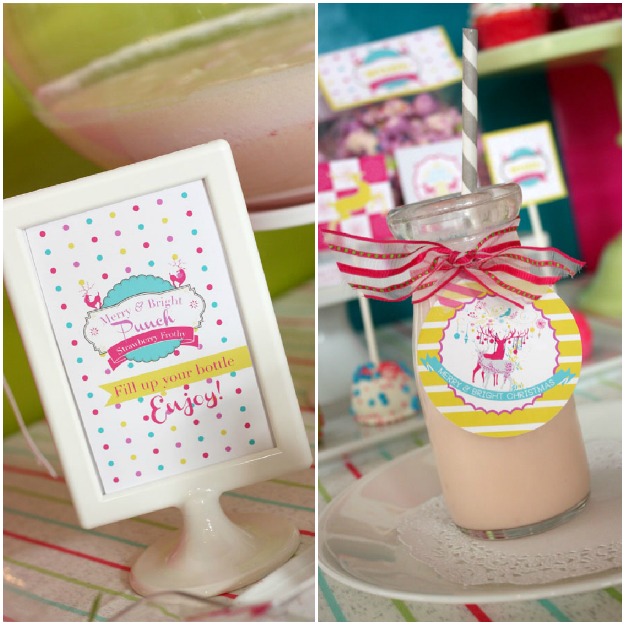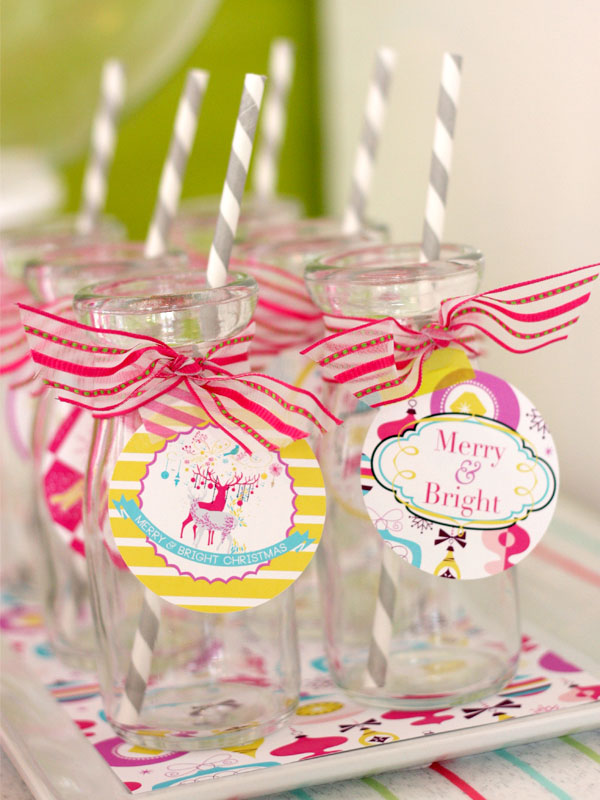 Guests could enjoy a frothy Strawberry ice cream punch or water to quench their thirst. Glass bottles are embellished with a cute ribbon and coordinating party circles.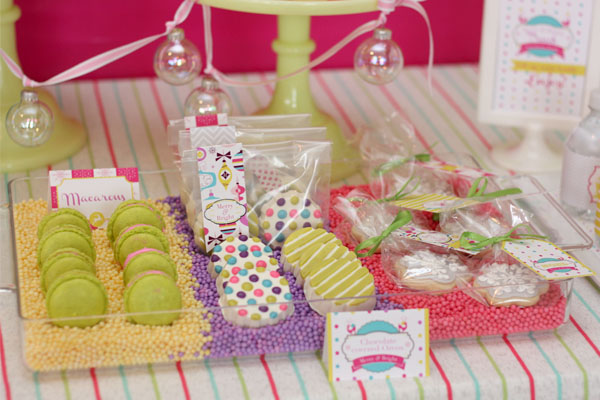 This wonderful sweets display is one of my favorite pieces on the table. The brightly colored treats look beautiful nestled in the mini candy dots and really bring out the pretty patterns on the cookies.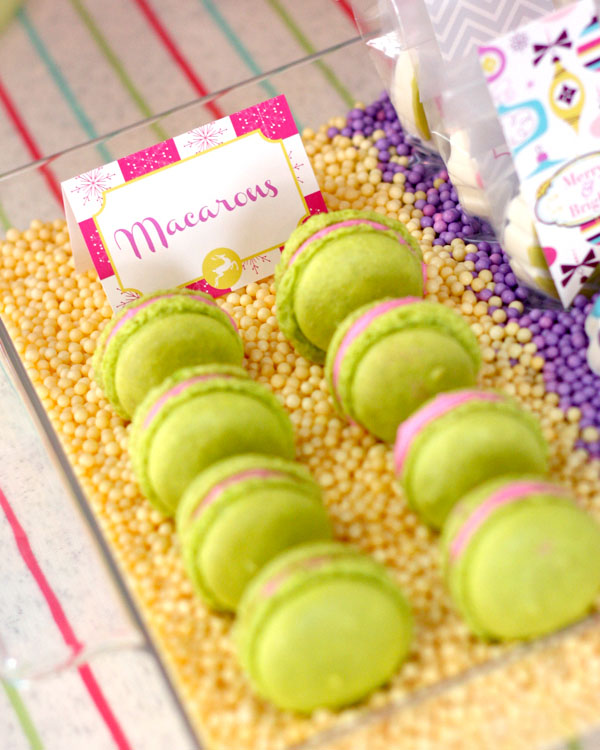 Delicious bright green macarons with strawberry filling.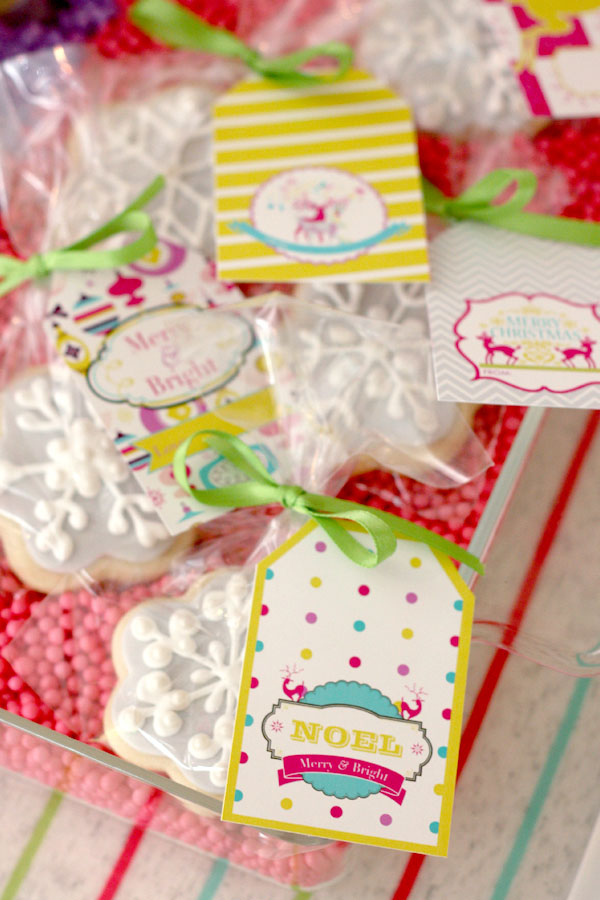 Elegantly decorated snowflake sugar cookies.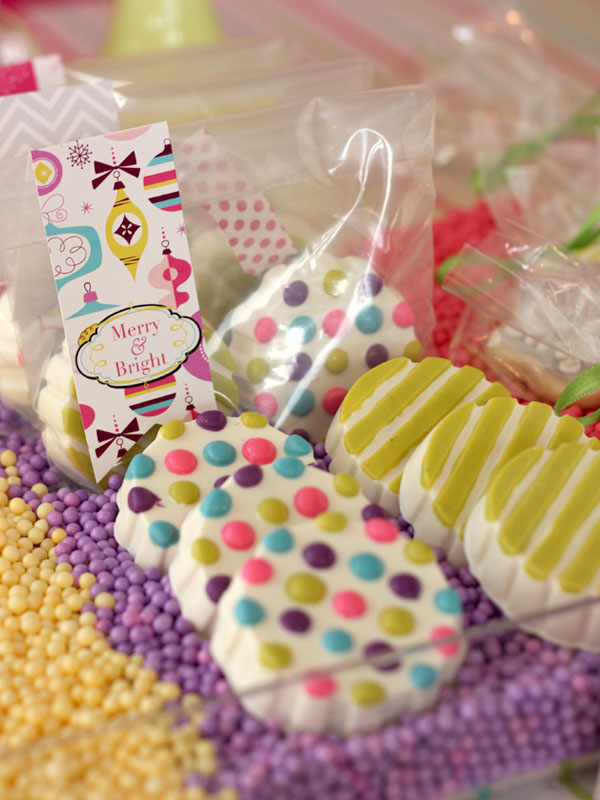 Polka dot patterned chocolate covered oreos.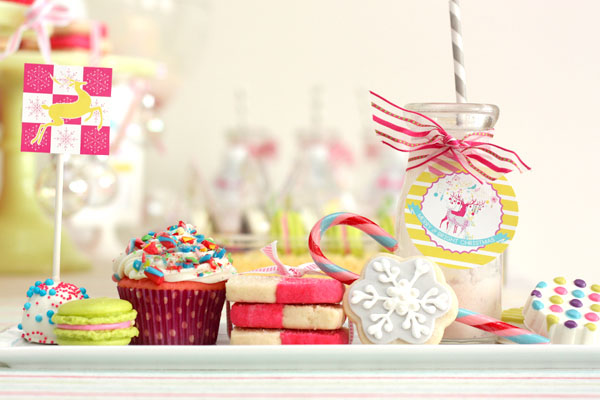 Wonderful collection of the fabulous desserts and sweets.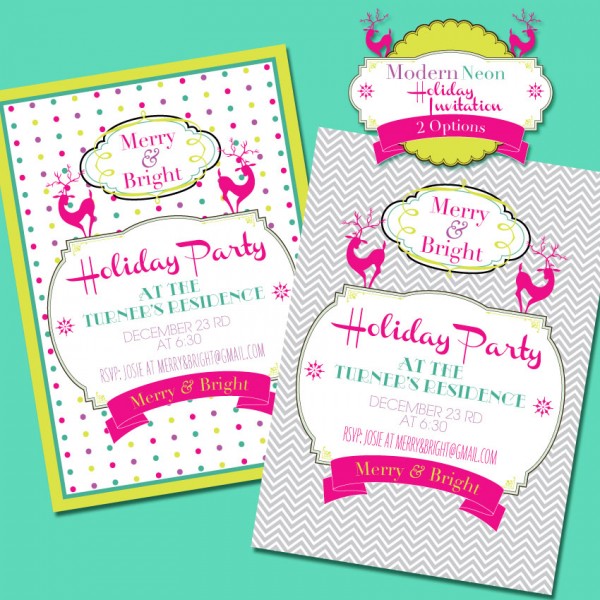 Here's the fun invitations that coordinate with the rest of the Modern Neon Merry and Bright Christmas collection. Just think how excited your guests would be to receive this beautiful invitation in the mail, giving them a peek into what's in store for them at the party!
Thank you so much Debbie, for letting me share your fabulous party with my readers – I absolutely LOVE it!
Vendors
Styling, Photography, Printable Party Collection – Wants and Wishes Design Online Store & Blog
Snowflake sugar cookies – Frog Prince Cake & Cookie Design
Debbie is the one that created my daughter's Barbie Princess & the Popstar party printables and we also featured her awesome Star Wars Party earlier this year.