After the fun and success of the Valentine's Day Party, I was sooo looking forward to planning my next party…luckily I didn't have to wait too long! My son Logan was turning 6 in April and when I asked him what kind of party he wanted this year, without hesitation he said "A Mario Kart Party!" Well, because of my new passion for party blogs, I'm no longer a fan of the typical 'buy a party in a box from Birthday Express', so I tried to give the party theme my own spin on Logan's Mario Kart request.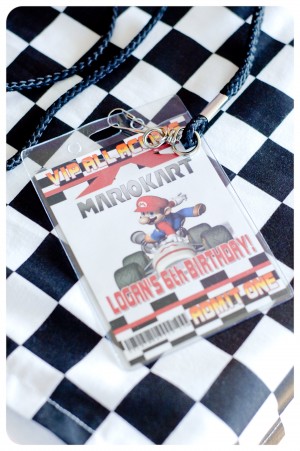 I think the invitations can set the tone for the entire party, so I wanted something a little unique. I found these cool customizable lanyard invitations on e-bay that the boys could keep and then wear to the party (they were a HUGE hit!).
As the boys arrived at the party, I had Mario Kart coloring pages set out on individual place settings for them to color.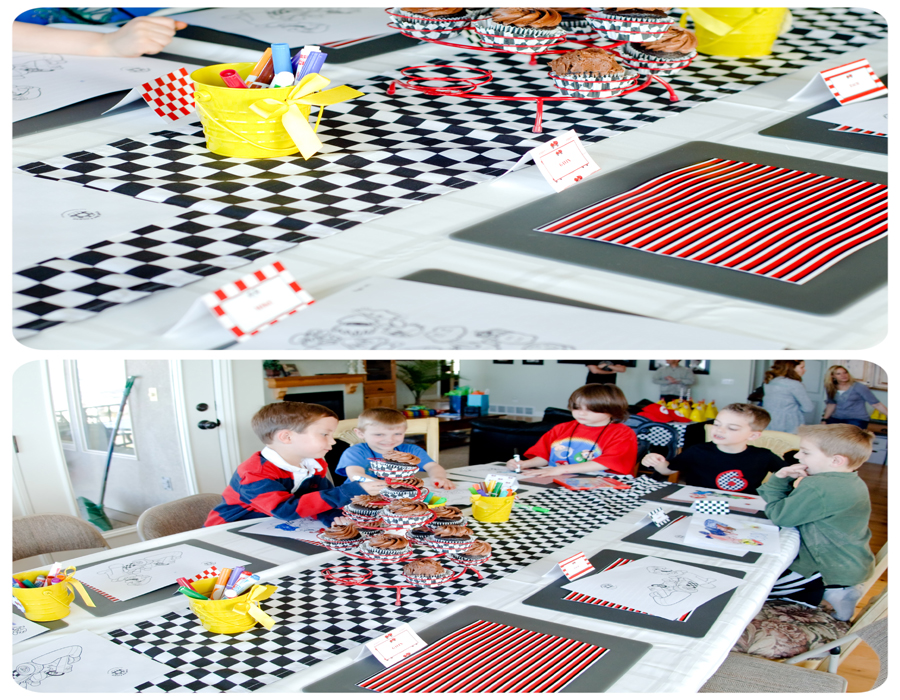 After everyone arrived, we played Mario Bingo using a printable game I again found on ebay, Pin the Mustache on Mario found on Tip Junkie and finally, we had a Mario Kart Wii tournament on the projector downstairs – they had a blast!! We ate pizza and breadsticks for dinner with cupcakes and donuts for dessert. I quickly discovered that 6 year old boys behave a little differently than 3 year old girls, so it was a little crazy with 10 little boys, but we still managed to keep everything under control and have a great time!
For the dessert table, I focused on Logan's favorite sweets.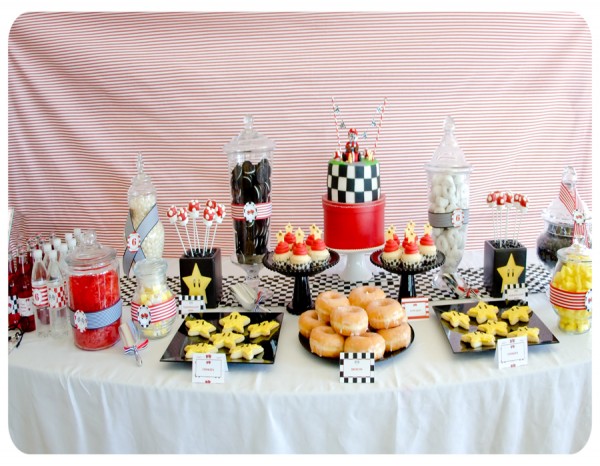 The cake was the centerpiece for the dessert table and Jill from Sprinklebelle Cakes never ceases to amaze me! How cool is Mario in his racecar on the top??!! The base of the cake was a round red box from Ikea, to give it a little height. I added the fun FINISH bunting to the top of the cake, for a little extra effect. Jill also made the great cupcakes with cute star fondant toppers.

For the rest of the dessert table, I included a plate of glazed donuts (Logan's favorite!), star sugar cookies that I made and decorated myself, mushroom marshmallop pops (my first attempt at marshmallow pops!), and filled my collection of apothecary jars with more fun treats like Oreos (Logan LOVES Oreos!), powdered donuts, gumballs, swedish fish, M&M's and jelly beans.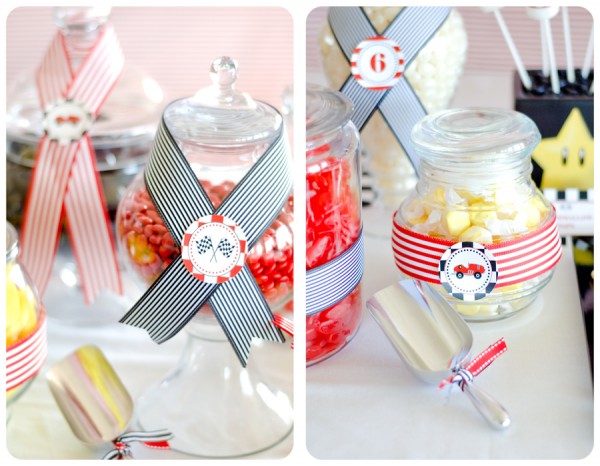 I ordered all the customized printables (placecards, tags, drink wrappers, etc.) from We Love Crafty Tracey's Etsy shop – I thought her designs went perfectly with the Mario Kart racing theme and she was so great to work with! The cute stripey straws and checkered flag cupcake liners were from HeyYoYo.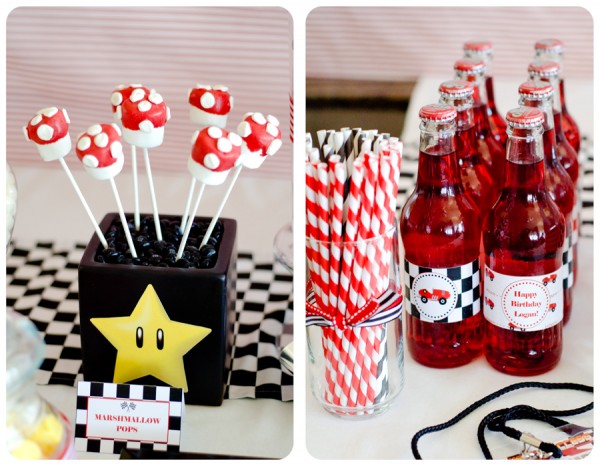 In the center of the favor table was a small chocolate donut cake decorated with a mini bunting that had Logan's name on it. The boys all took home a Mario hat I made with sticky white felt cutouts for the M, and their personal treat bag to fill with anything they wanted from the dessert table.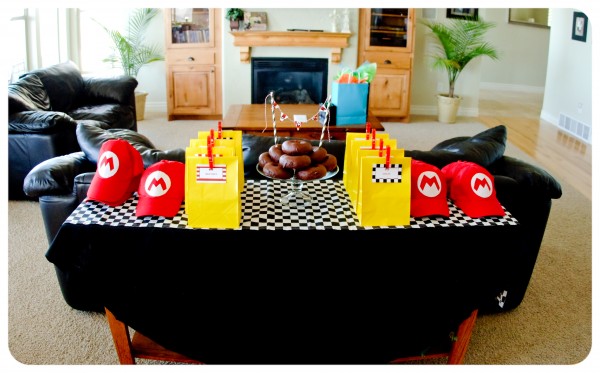 The birthday boy had to have his own special shirt, right? so I ordered Logan's shirt from Curious Georgia on Etsy.
After all of the little boys went home, the celebration continued with all of our wonderful family coming over to eat more food, open presents and we actually cut the Mario Kart cake (eek!).
It was so much fun planning this party for my sweet Logan…I know he had a great day with all of his friends and family. Thanks to my awesome Mom and darling sister-in-law Kira for all of your help! And a special thanks to my wonderful photographer, Laura Sheneman, for capturing the great photos!