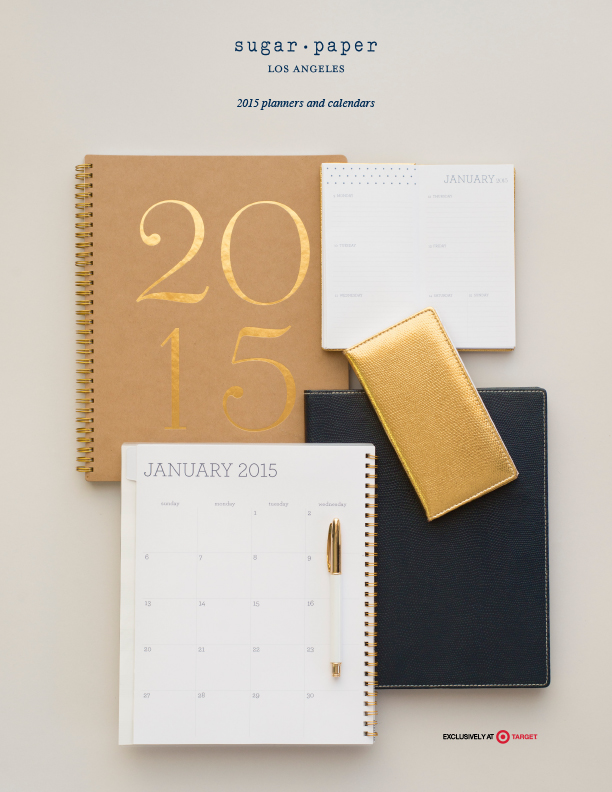 As if you needed another reason to RUN to Target today (I know I never need a reason! lol) I have one for you…the 2015 Sugar Paper calendars and planners are "officially" being released in Target stores nationwide TODAY, October 28th.
There are too many things I love about this big day…Target, Sugar Paper, planners, calendars, gold foil, stripes, polka dots, pink, and navy just to name a few. Seriously though, Sugar Paper is one of my all time FAVORITE paper/stationery designers – I absolutely LOVE everything they create and think you will too!

The Sugar Paper products at Target all sell for under $14.99 (awesome!) and will only be on shelves for 12 weeks or until they sell out. And I promise, they WILL sell out. I bought some goodies last year and I'm glad I did because they were gone fairly quickly.

I'm seriously going to have the hardest time deciding which items to buy because I love them all, but I KNOW I'll be buying one of the navy and white striped items – huge fan of navy and white stripes here 😉

Below are some of my favorites from the collection:

What do you think?? Are you going to be heading to Target today or some other time this week?? Are you loving the new designs? Is there an item or two that you're dying to get? Do you like the Sugar Paper style?? I'd love to hear your feedback in the comments below! Some of Sugar Paper's other fabulous goodies may be coming soon to an online shop near you! (hint hint)