The end of school (and beginning of summer!!) is quickly approaching, which causes me to have mixed emotions…sad to think that my little ones are growing up so quickly, happy to have warm weather and free time, but not looking forward to the never-ending cries of "we're bored, mom!" When am I going to get all of my errands run now!!??
If you're at all like me, I usually end up waiting to the very last minute to figure out something to give my kids' teachers at the end of the school year. So this year I'm starting early (well, not too early) and have gathered up my favorite teacher 'thank you' ideas from around the web to share with you! Hopefully you'll find something here that you can give those amazing teachers we all admire (for putting up with all those crazy kids!!) Just follow the links to the specific website and they'll show you exactly how to make most of these great gifts!
This first idea is from Jennifer at Home Sweet Home. I've seen these light bulb containers at Hobby Lobby recently.
A simple and inexpensive idea for your teachers to relax and enjoy the summer from Everything Nice.
I saw this idea last year and I'm glad I found it because I thought it was SO cute, I just love it! It's probably a little more appropriate for the beginning of the year, but teachers can still use supplies for next year, right??!! It's from the very creative girls at eighteen25.
Here is the girls from eighteen25's idea from this year. I like this one because I know my son Logan's teacher LOVES Starbucks, so I'll be doing this one for her!
P.S. if you go to the eighteen25 blog, just know that you'll be lost on there for ages…so many fun things!!
This next ideas is great because your child can help you customize it for their teacher. I found this idea from How Does She? via Skip to my Lou.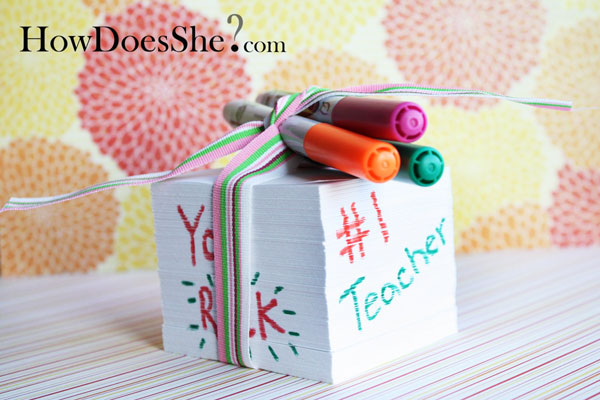 Here's my last find. You can either make the bundt cakes yourself or go to Nothing Bundt Cakes and pick up a mini one! Again I found this idea on Skip to my Lou by Cali at Make It Do.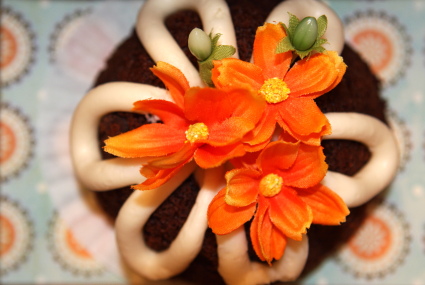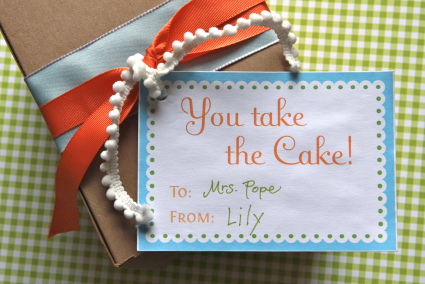 Lastly, I found this list of cute sayings you can attach to simple gifts, again from Skip to my Lou.
"You are out of this world" tag attached to a bag ofMilky Way or Mars candy bars
"There is no 'sub'stitute for you!" tag attached to a gift card for the local sub shop
"Thanks for helping Blake 'bloom'" tag with a bouquet of flowers
"Just a note to say you are special" custom made note pads, purchased notepads or post it notes
"You are 'tea'rrific!" tag with a selection of teas
"Thanks for a 'picture' perfect year" tag with movie coupons or nice picture frame
"You have been just 'write' for Blake!" package of nice pencils or pens in a case or container
I hope you can use some of these ideas to show those teachers how much we appreciate all they do for our kids!
Happy Summer!!