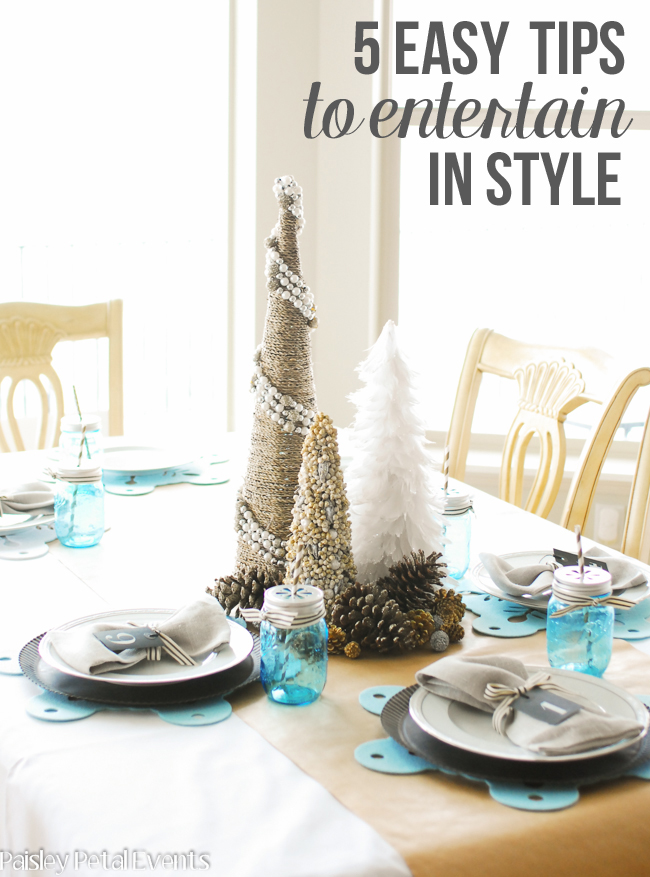 With the holiday season upon us, today I thought I'd share my favorite 5 easy tips to entertain for the holidays in style. I call these "easy" tips because you shouldn't have to stress out about entertaining and having guests over; you want to be able to enjoy the time with friends and family and not spend too much time prepping for company. Hopefully these tips will help relieve some of that stress and let you enjoy the season.
5 Easy Tips to Entertain for the Holidays in Style
1. Shop your home for centerpieces and table decor.
2. Choose your color scheme.
3. Add namecards to your tablescape.
4. Use wrapping paper.
5. Set the mood to welcome guests.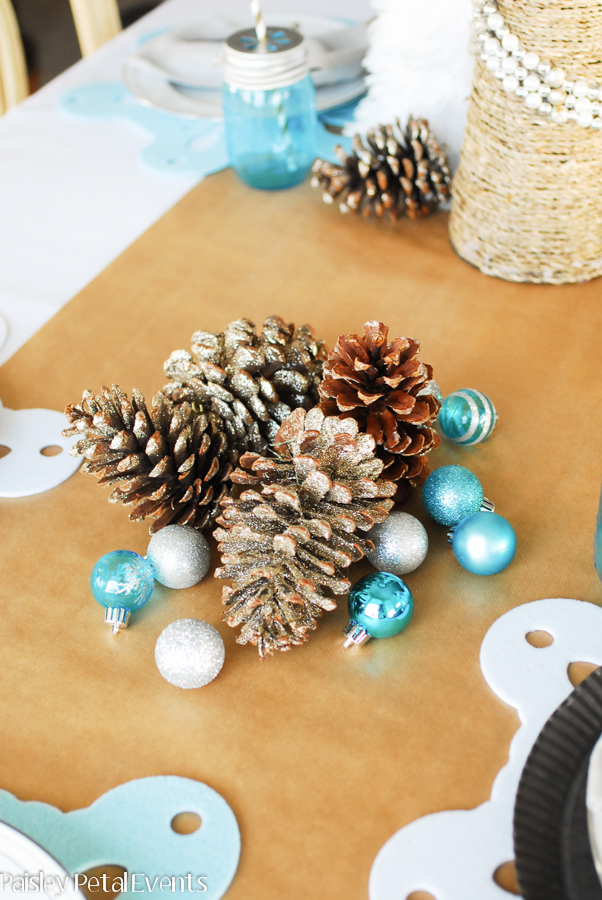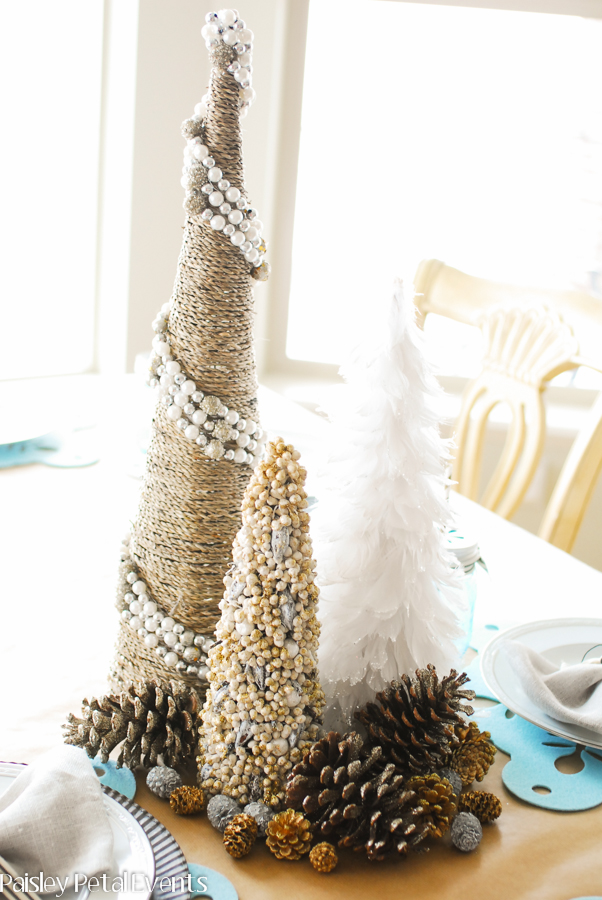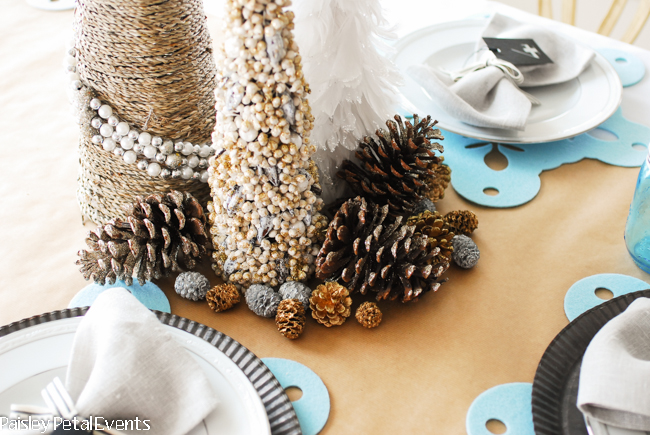 Tip #1 – shop your home for centerpieces and table decor. There's no need to go out and spend a bunch of money for items to decorate your table for guests. Pull out your Christmas decorations and look through what you already have to find items that will work for a centerpiece and additional table decor. Look for a couple of items with some height for visual interest in the center of your table, and smaller items flanking the sides if you have room. These trees sit on my mantle for Christmas, but I just pulled them off and added them to the table for the night. Gold and silver glittered pinecones along with aqua colored ornaments act as additional filler for your tabletop decor.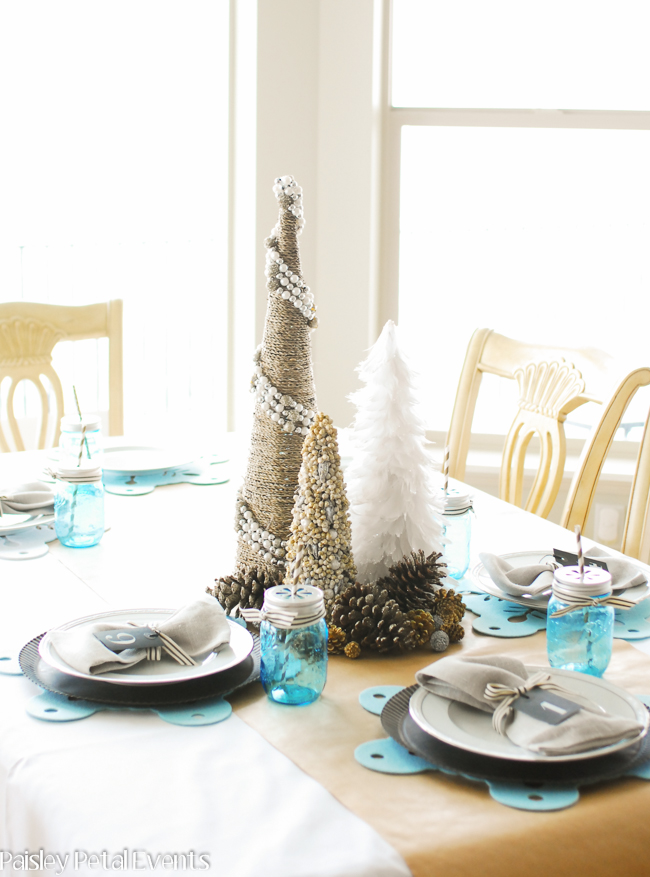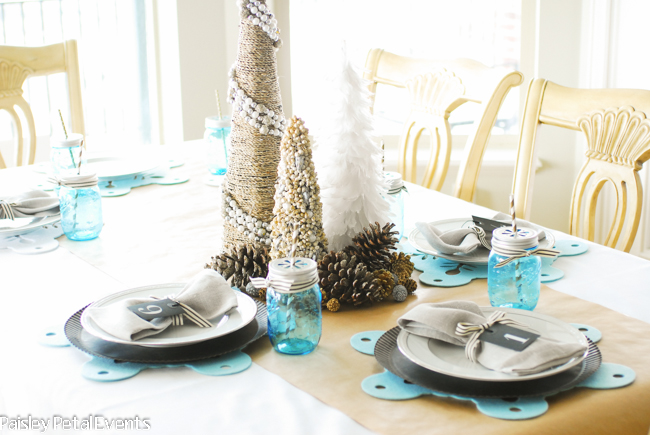 Tip #2 – once you have looked through your existing stash of Christmas decor, decide on a color scheme for your tablescape. If you have lots of red and green decor, use that to start with and maybe add some sparkle with gold or silver accents. If you have a particular color scheme in mind, look through your existing inventory and see what you have in that color scheme to work with. Try spray painting old decor items to give them new life and work them into your vision without buying everything new. Choosing a color scheme will help you plan the additional details you want to add to your tablescape and make planning easier.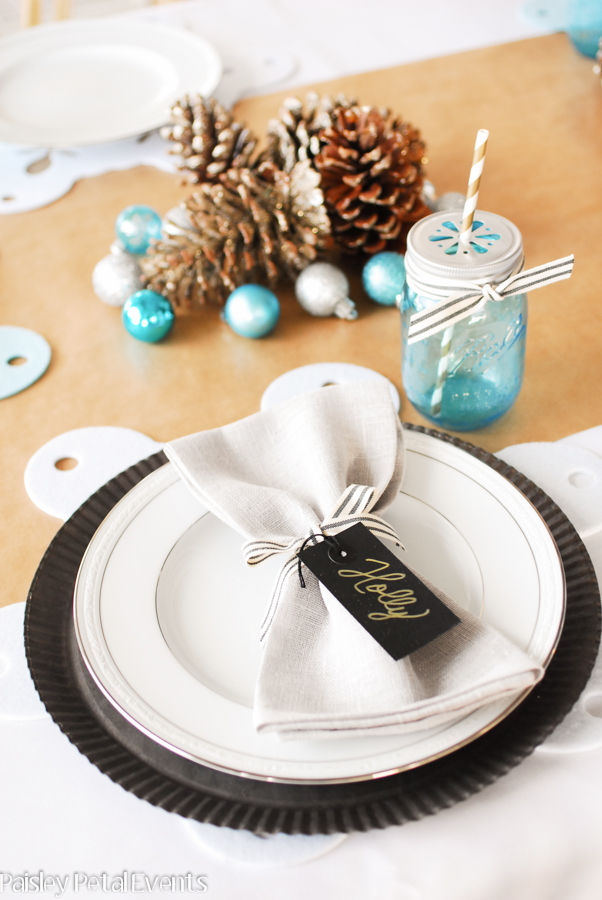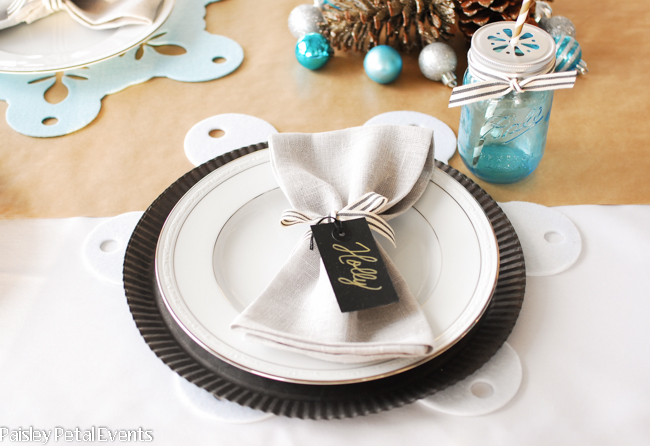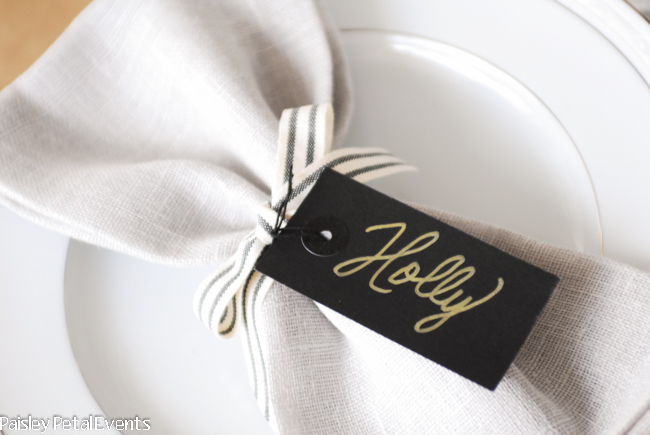 Tip #3 – use namecards at your holiday table to make guests feel welcome. I just LOVE having namecards at your table for any event, be it birthday parties, casual get-togethers, or holiday parties. Guests (especially little ones) love finding their own special seat at the table and it makes them feel more even welcome at your event. Namecards can be simple or more fun and elaborate. For this holiday party, I used simple black tags, hand wrote the guest names in gold sharpie and tied to the bow on the napkin. Last year I made these cute glittered pumpkin namecards for Thanksgiving, and check out this post for more placecard ideas. Have fun and be creative with this one!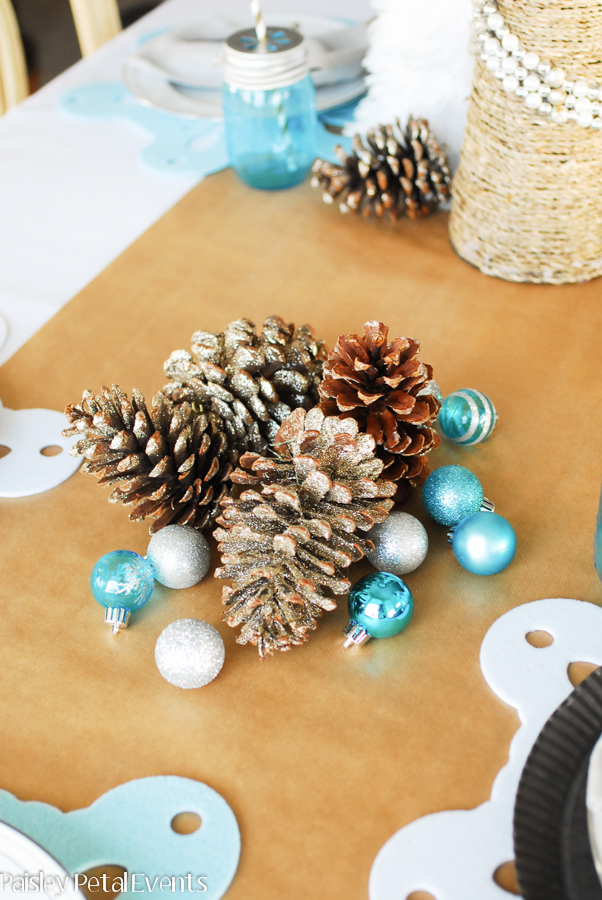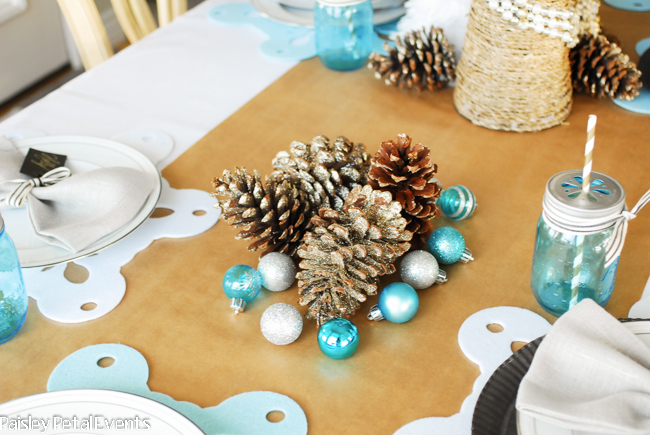 Tip #4 – use wrapping paper for your tablerunner. I use wrapping paper for tablerunners or on my tabletops ALL THE TIME! It's such an easy and inexpensive way to add some color or pattern to your table. Wrapping paper comes in so many fun colors and patterns now, that you should easily be able to find paper that coordinates with your color scheme or theme; whether it's bright and colorful, or elegant and reserved. HomeGoods and Target are always a great place to find pretty wrapping paper. I used a kraft paper table runner for my rustic glam tablescape.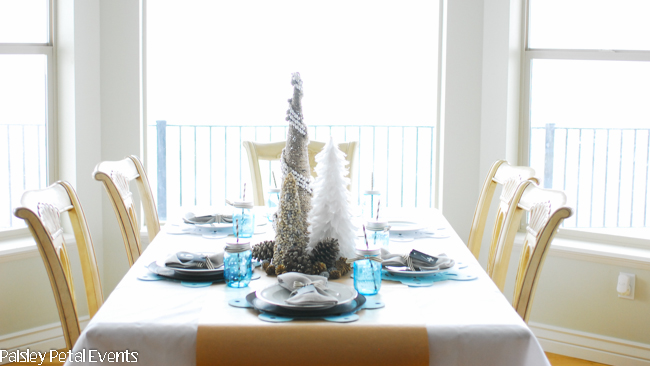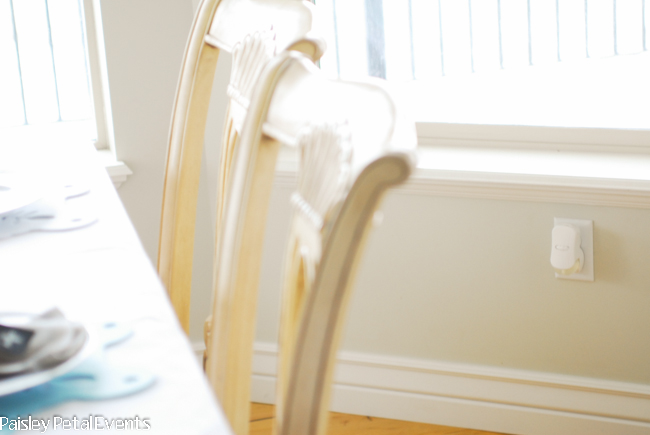 Tip #5 – use a beautiful holiday scent to set the mood and welcome guests to your home. I absolutely LOVE to walk into a home and immediately smell an aroma appropriate for the season. I personally use scented plug-ins to keep my home smelling nice all year long. I just love the feelings that a yummy scent can evoke. I love fruity and tropical scents for the spring & summer, pumpkin & caramel for the fall and pine, cranberry & sugar cookie for the holiday season. Having a beautiful candle burning or scented plug-in really makes your guests feel at home and may even evoke a feeling of anticipation and excitement for the wonderful holiday season.
My home smells absolutely fabulous right now because I have the Glade Sparkling Spruce scented plug-in in my kitchen/family room area. I plugged it in a few days ago and it SERIOUSLY got me in the Christmas spirit and totally makes me want to put up my Christmas tree right now!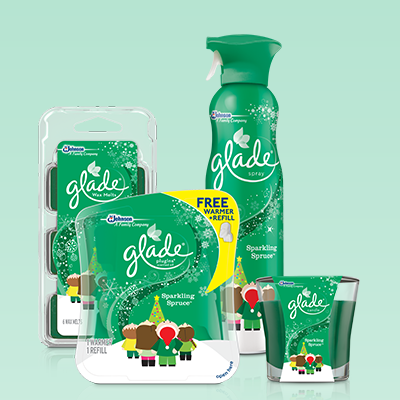 As I mentioned, I LOVE the scented plug-ins, but you can also find candles, room spray and melting squares to bring that wonderful Christmas smell into your home.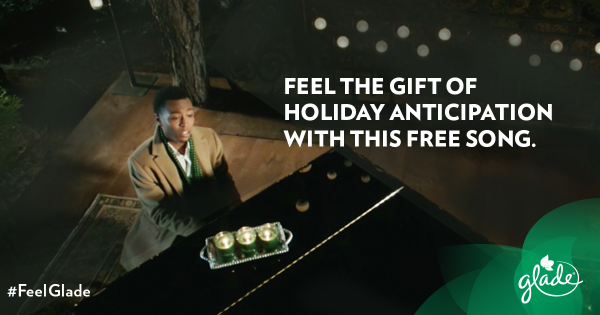 I really enjoyed Kevin Ross' rendition of Glade's holiday song, "This Is My Wish" and was inspired by the Sparkling Spruce fragrance and the feeling of anticipation for the season. Click HERE to listen to and download the holiday song to add to your Christmas collection.
I was selected for this opportunity as a member of Clever Girls and the content and opinions expressed here are all my own.