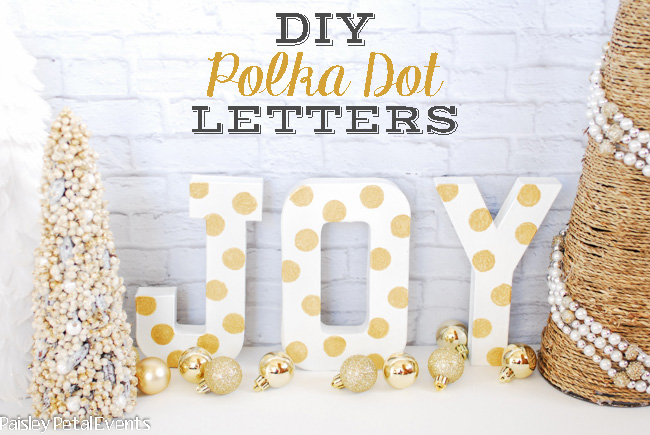 As you can probably tell, I'm totally into gold and polka dots and stripes right now, and I really want to incorporate more white and gold into my Christmas decor, so I came up with these DIY polka dot letters, which will fit perfectly on my mantel below our TV that's mounted above our fireplace.

Here are the supplies you'll need for this little project: paper mache letters, spray paint, acrylic paint and round sponge daubers.

First spray paint your letters in the color of your choice.

After letting your letters dry, pour some gold acrylic paint into a small container and use your circle paint sponge to add the polka dots to your letters. For this project I used a 1 inch circle sponge and a 1/2 inch circle sponge to touch up any uncovered areas.

I used my sponges and went over each polka dot twice to make the gold more dark.

Here are my finished letters displayed on my mantel.


Are you using any gold in your Christmas color scheme this year?? I seriously can't get enough of it!! Stay tuned for another gold polka dot project next week! Hint: it's a printable one! 🙂
This post contains affiliate links.