Eek, you guys, I'm so excited I can't even stand it!! Today is launch day! Today I'm launching my first product. A new product that I've been working on for a while now and it's finally ready for you! I wanted to release it Monday, but because of the crazy busy holidays it didn't happen until today, but that's okay!
First a little back story…one night I was laying in bed and I was thinking about how I always feel behind when it comes to the next holiday and getting my house decorated for that holiday, and all the preparations that come with said holiday. ANY holiday, not just Christmas in particular. I LOVE to decorate for every holiday and other special occasions, but my problem is that I don't get things done or decorated until the last minute so there's hardly any time to enjoy it.
So I had this idea…that if someone was to just send me or give me some of the things I needed to prepare for that holiday in advance, I would (hopefully!) get things done much sooner. I'd be ready early and wouldn't be scrambling to get things together. I'd be ahead of the game and not always feel behind and stressed out. Wouldn't that be a great feeling??!!
I ALWAYS end up using printables (downloadable PDF files) for my holiday and seasonal decorations and other things like gift-giving, planning little get-togethers or parties, etc. So my idea was to have someone create (since I'm not that graphic design savvy) a bunch of printables that would help the busy mom/wife/woman be ready for the upcoming holiday. AND to have those printables delivered directly to her inbox at the beginning of the month prior to the holiday. That way you wouldn't have to go searching around the internet or Pinterest to find what you need; it's automatically sent to you and far enough in advance that you have plenty of time to get everything ready. What do you think?? Are you liking my idea??? Could you use some help getting ready for the next holiday or season or celebration?? Embrace our motto and "Be Prepared for Every Occasion"!
I've enlisted the help of Debbie at Wants and Wishes Design to help me with this new idea. Debbie is an amazing graphic designer and she seriously has the exact same style and design aesthetic as me. I have always loved what she creates. Debbie quickly designed a Valentine's Day collection for me so that I could launch this new idea of mine.
How Does It Work?
You basically have a couple of options:
1. You can purchase a particular month's exclusive collection of digital printables by themselves for $10 per month.
2. You can purchase a 6 month subscription for an exclusive collection of digital printables to be emailed to you by the 5th of each month in preparation for the next upcoming holiday, season or celebration for $50 ($10 savings).
3. You can purchase a 12 month subscription for an exclusive collection of digital printables that will be emailed to you by the 5th of each month in preparation for the next upcoming holiday, season or celebration for $100 ($20 savings).
Basically, the longer your subscription period, the lower your cost per month. With the 6 month subscription you get 1 month for free and with the 12 month subscription you get 2 months for free!
If you purchase your subscription before the 15th of the month you will immediately be sent the digital printables for the next month's holiday/season/celebration. If you purchase your subscription after the 15th of the month, your subscription will begin the following month with files emailed to you before the 5th of the month in which your subscription begins. PLEASE NOTE: you are purchasing digital PDF files that you download with Adobe Reader. No physical products will be shipped to you.
Here is a calendar of the printable collections we will be releasing for 2015:
January – Valentine's Day collection
February – Spring collection
March – Easter collection
April – Birthday collection (boy & girl color schemes)
May – Summer collection
June – 4th of July collection
July – Congratulations collection
August – Fall collection
September – Halloween collection
October – Thanksgiving collection
November – Christmas collection
December – New Year's Eve collection
So, for example, the Valentine's Day collection is available NOW, yay!! The Spring collection will be released and e-mailed to you by February 5th. The Easter collection will be released and emailed to you by March 5th, etc. etc. You get the picture.
What's Included In Each New Collection?
Each month you will receive a minimum of 15 printable PDF pages in your inbox. All collections will include art prints, banners, calendars, tags and note cards. Additional files will be included and tailored to the specific holiday, season or celebration. Below are 2 images that show you exactly what is included in our 24 page Valentine's Day collection with access to both color schemes. You can expect future months to include similar offerings.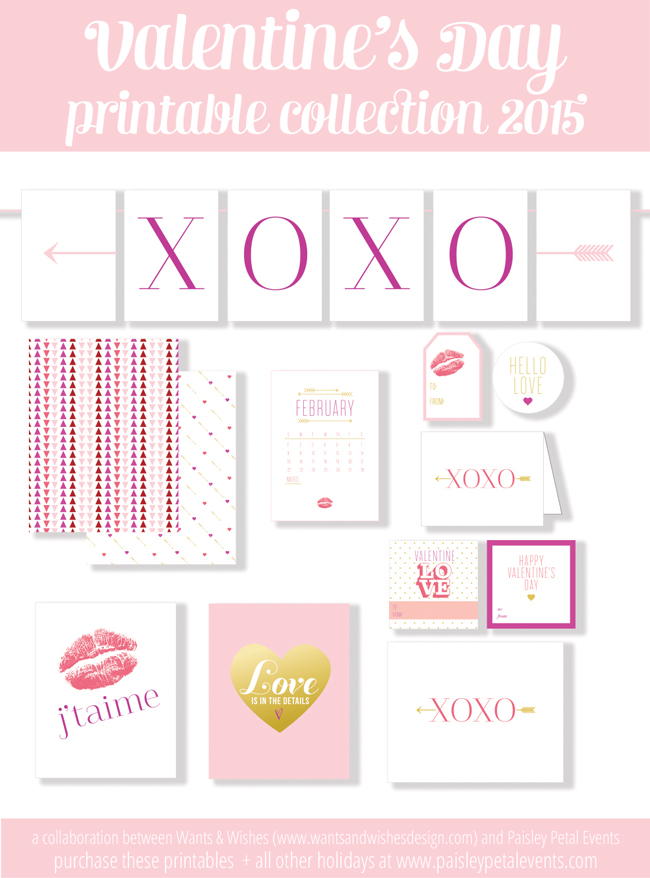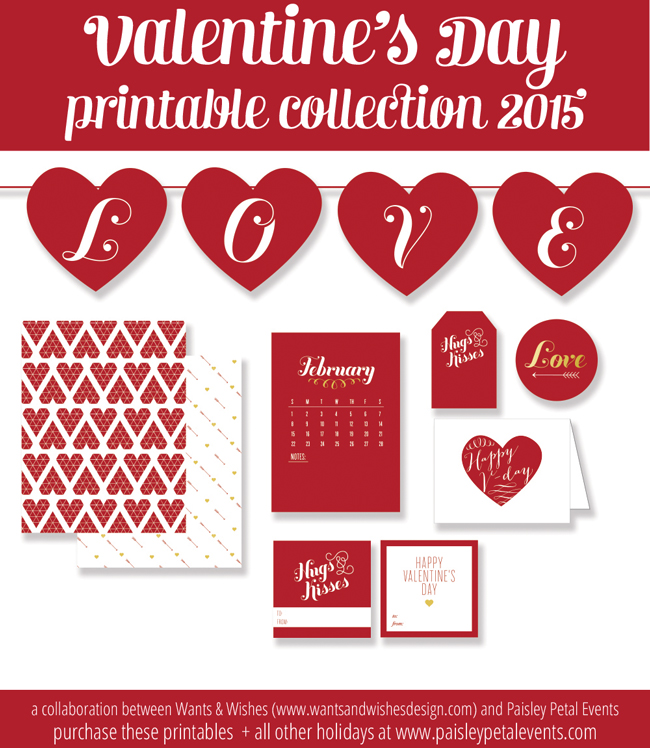 The Valentine's Day collection includes 24 pages of PDF files including:
3 8×10 art prints
XOXO banner
Heart love banner
2 calendars (4.5″x6.5″)
2 notecards (4″x5″ folded)
Valentine tags (4 square designs)
Valentine tags (4 designs – 2 hanging & 2 circle)
4 different patterned papers
I printed out some of the files included in our Valentine's Day collection and set up a little display to show you how some of the printables can be used for your upcoming Valentine's Day decorating, gift-giving, etc.
A printable banner is a must-have decor item in my book. I ALWAYS have a printable banner hanging up in my home. Either on my mantle, on my sofa table, or on the mirror in my entryway. All you need is some ribbon, twine or string and your PDF files printed at home or at your local office supply store to create a cute and simple banner for every holiday and season.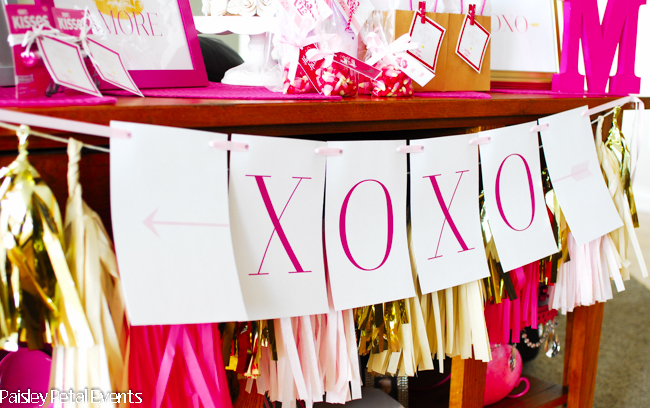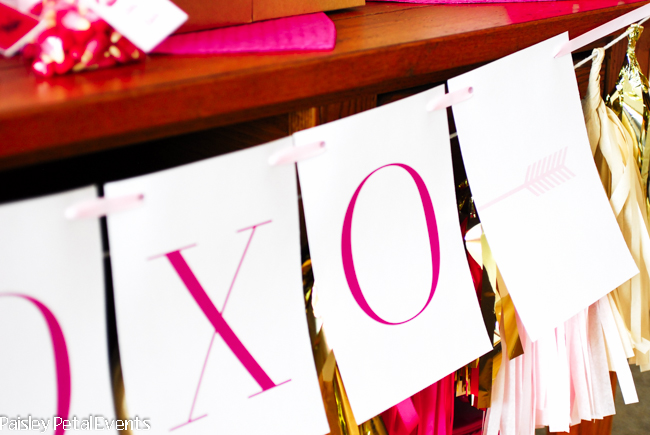 In addition to our pink hugs & kisses printable banner, a red heart LOVE banner is available in the Valentine's Day collection. Simply cut out the hearts, punch holes and string onto ribbon or twin and hang. Or use little clothespins to attach to your ribbon.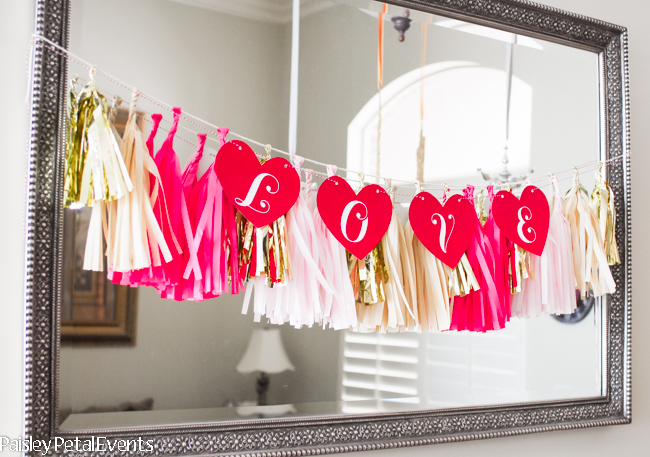 I added a tissue tassel banner underneath our red hearts to give it more depth and color.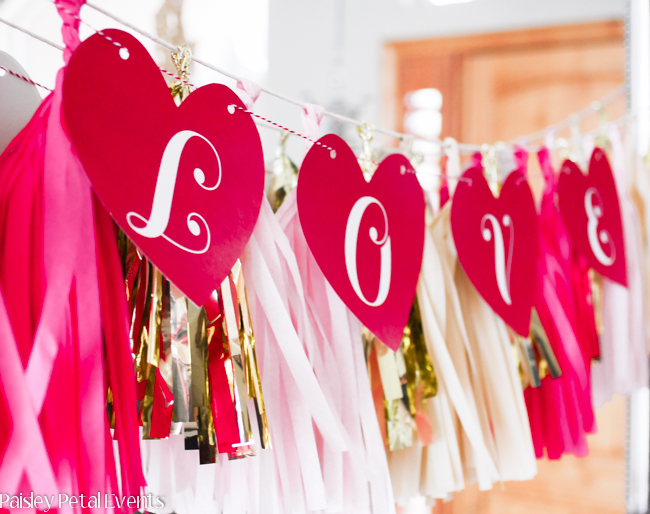 Art prints are another decor item that are always on display at my house. Simply print, trim to 8×10 to fit your frame and display. So easy to add some fun and color to your holiday decor. Our Valentine's Day collection includes 3 art prints. AND if you're on our newsletter e-mail list you'll be receiving 2 more art prints for free! Sign up for our newsletter in the aqua bar across the very top of our website.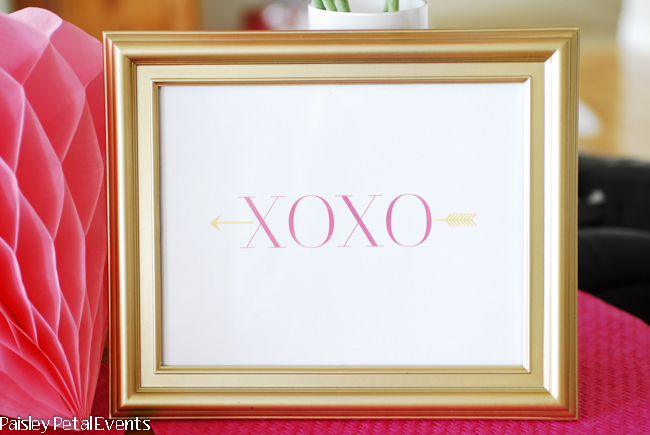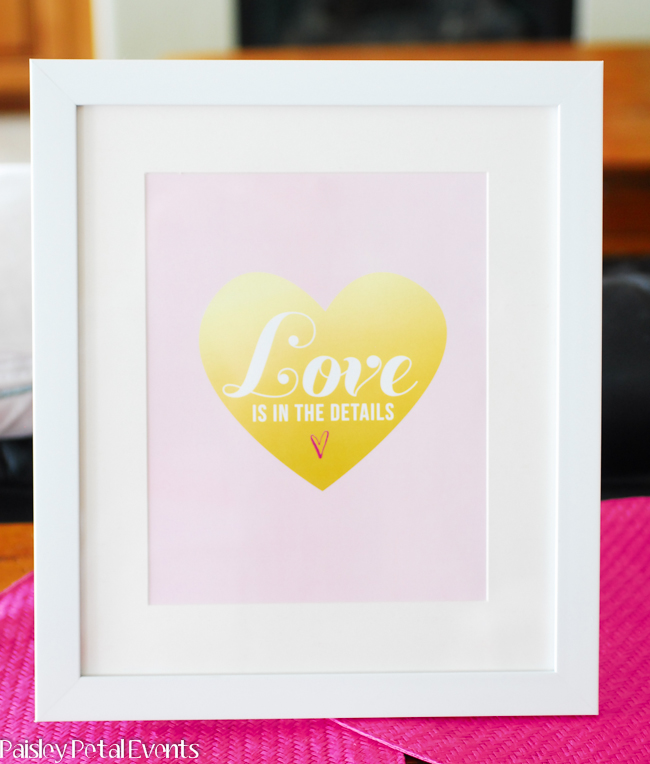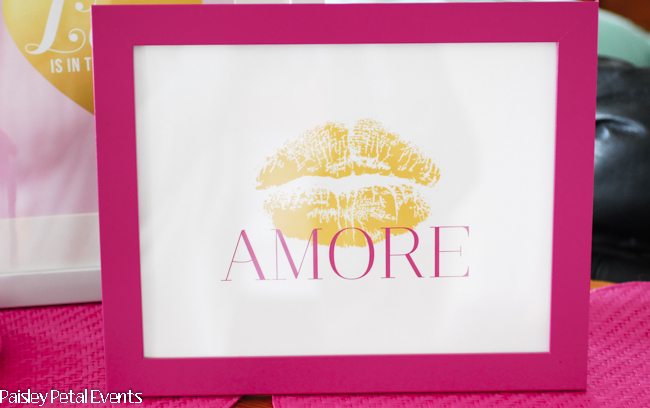 I use printable tags all the time! I add them to gifts I'm giving to my kids or husband, birthday presents, little gifts or treats for my kids to give to their classmates, friends or dance class, church classes, etc. My daughter loves to give little gifts to her friends at dance and since her class is pretty small we usually do this for holidays. Go to your local Target Dollar Spot right now (seriously before everything's gone!) and pick out some lotion, lip gloss, treats, pencils, notebooks or whatever you can find to give out for an inexpensive Valentine's Day gift. Print out one of our many Valentine's Day tags and attach with some twine and you're all set! Or simply tape our tags to your classroom Valentine's Day exchange items for an extra special touch. Attach a tag to gifts you're giving to your kids or husband for Valentine's Day.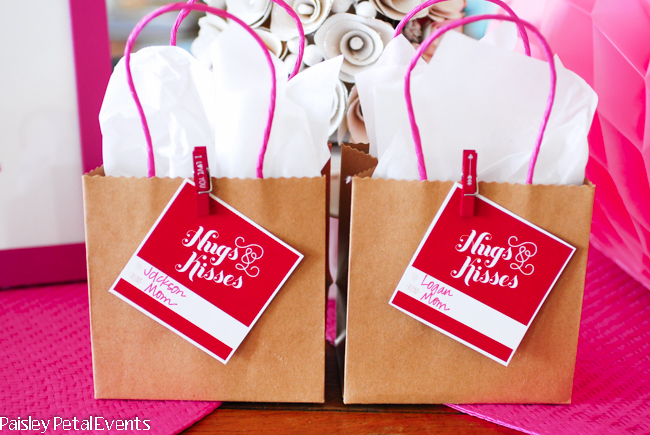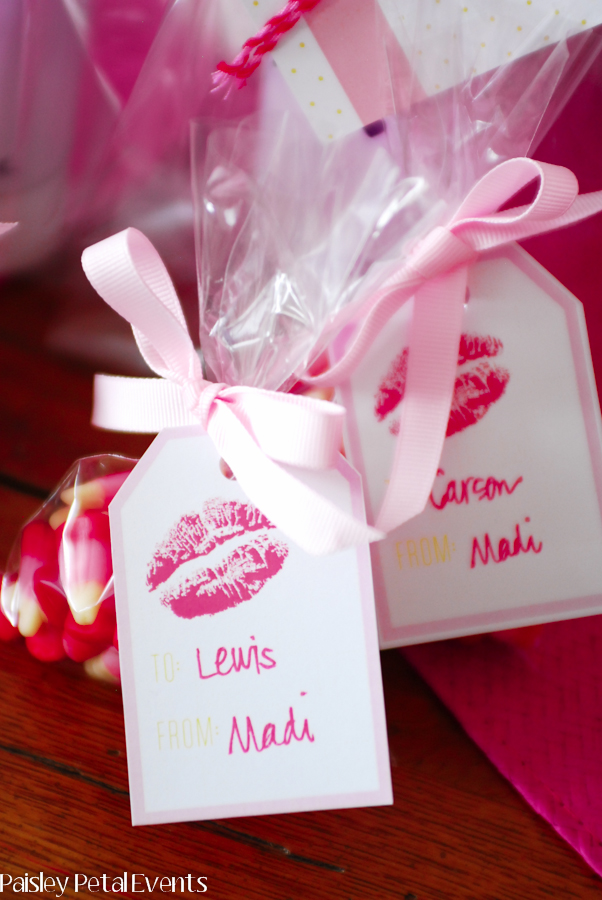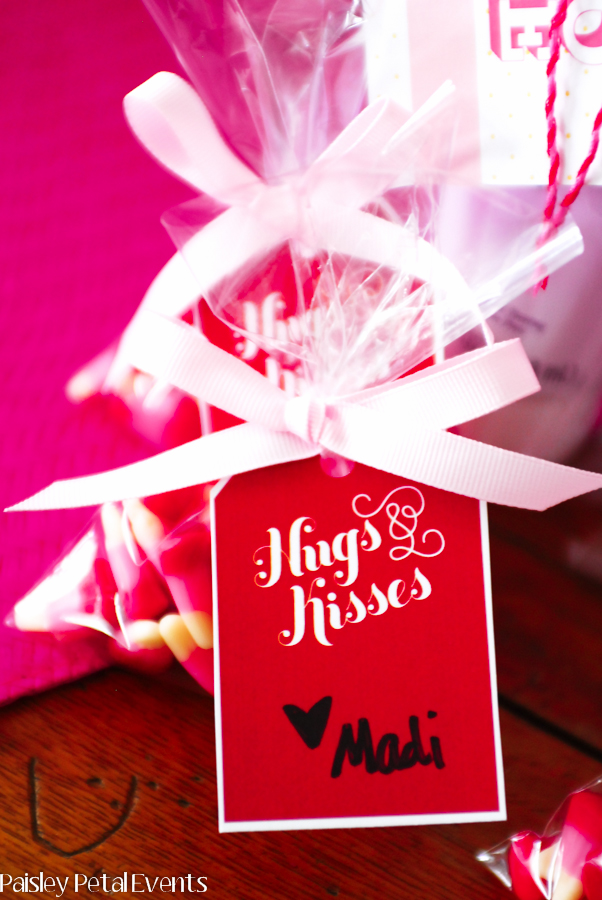 I thought a calendar and note cards would be a couple of fun items to include in the collection that you can always use and are nice to have on hand. The printable desk calendars are 4.5″ x 6.5″ and you can use a CD case or a small metal/wood easel to display your pretty calendar. The note cards can be used to write a little Valentine's Day letter to a loved one or friend and measure 4″x5″ folded.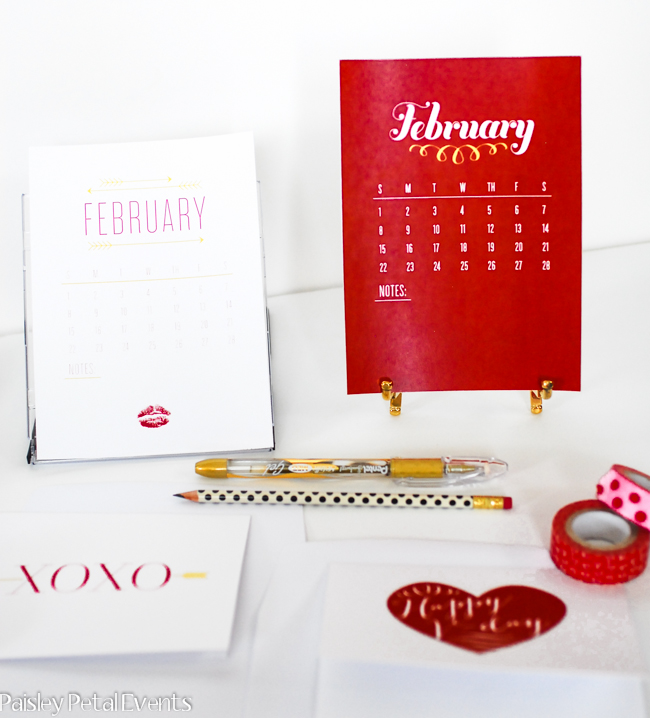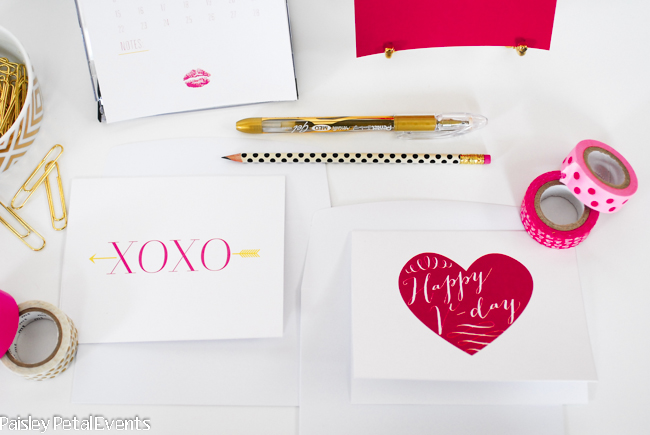 I don't have any images of the patterned paper in action, but that can be used for any paper crafting projects. Create your own little note cards with it. Use it as a matte behind a photo, punch out circles or hearts to add as embellishments to a homemade Valentine's Day card. Fold into an envelope or small box. Use as an envelope liner. Cut hearts out of it and make your own banner. Those are just some fun ideas for you. Get creative!
My hope is that you'll find this idea – monthly printable PDF files delivered to your inbox each month – as helpful as I think they will be. I'm seriously so excited about this idea, if only for myself, so that I will feel more prepared for the upcoming holidays and get some decorating and preparation done before the holiday. I want my home to feel welcoming and the kids to be excited about holidays and changing seasons. So will you join with me in being prepared for every occasion?? Click on one of the options below to sign up today and immediately receive your Valentine's Day collection to start preparing right away!
By clicking on one of the options below, you will be directed to our new Shop (yay!) where you can securely purchase your subscription via PayPal or with a credit card.
If you have any questions or suggestions about these new products, please don't hesitate to email me: [email protected] or leave a comment below. I'd love to hear from you!
And don't forget to sign up to be on our newsletter list and receive 2 FREE Valentine's Day art prints!