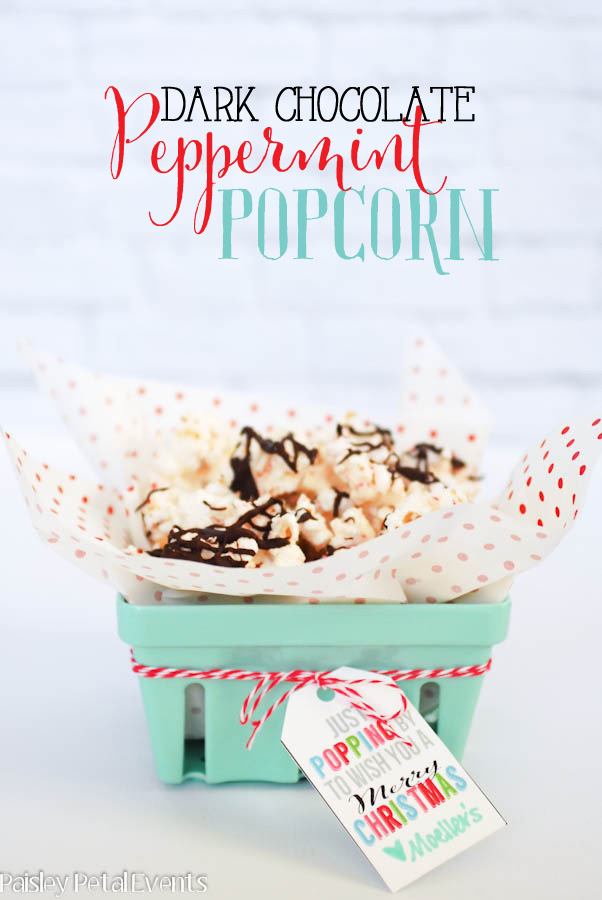 I have a confession – I absolutely LOVE anything that has to do with MINT & CHOCOLATE! I just adore those 2 little ingredients together, and if it's dark chocolate – even better!! Some of my favorite mint+chocolate treats are: Girl Scout Cookies Thin Mints and the box of chocolate mint wafer cookies from Costco at Christmastime – delish! Starlight mint ice cream. This Candy Cane Christmas bark. Mint Oreo cookies. And I recently discovered a Ghirardelli Mint Chocolate cookie bar that is fabulous!
As I was thinking about what to give some people for Christmas, I settled on making this dark chocolate peppermint popcorn for a yummy neighbor gift. It turned out delicious and I guarantee you will love it (if you love mint, that is). There are few people in my family who don't like mint, so I totally understand if you're not into the mint thing like I am! 😉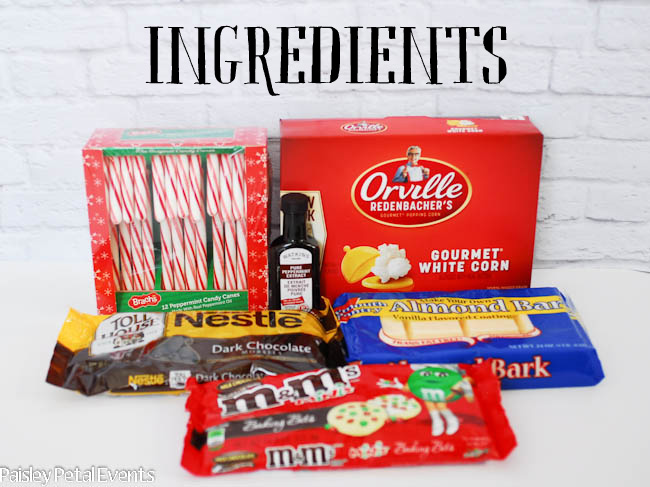 Peppermint Popcorn Ingredients
12 peppermint candy canes
20 cups of popped white popcorn
2 teaspoons peppermint extract
1.5 lbs almond bark
1 cup dark chocolate chips
1 cup mini m&m's (optional)

Peppermint Popcorn Directions
Step 1 – Unwrap and crush 12 peppermint candy canes. This will make approximately 1 cup of crushed candy canes.
Step 2 – Pop 20 cups of white popcorn. I used 3 bags of the microwave popcorn pictured above.
Step 3 – Add your crushed candy canes to your popcorn and stir.
Step 4 – Melt 1.5 lbs of almond bark according to package directions.
Step 5 – Quickly stir the 2 teaspoons of peppermint extract into your melted almond bark.
Step 6 – Pour melted almond bark & peppermint over popcorn and candy cane mixture and mix until all popcorn and candy canes are covered.
Step 7 – Spread your popcorn onto 2 cookie sheets covered with wax paper.
Step 8 – Melt 1 cup of dark chocolate chips according to package directions.
Step 9 – Drizzle melted chocolate over popcorn and let harden. Sprinkle mini m&m's over top if desired. Place in refrigerator to speed up the process.
Step 10 – Break popcorn into smaller pieces & place in your desired container.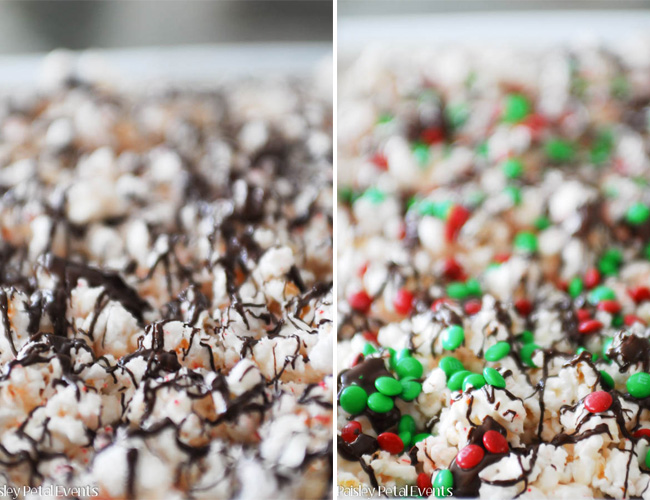 I just love those cute Christmas colored mini M&M's and decided to add some to half of our popcorn – it was very yummy!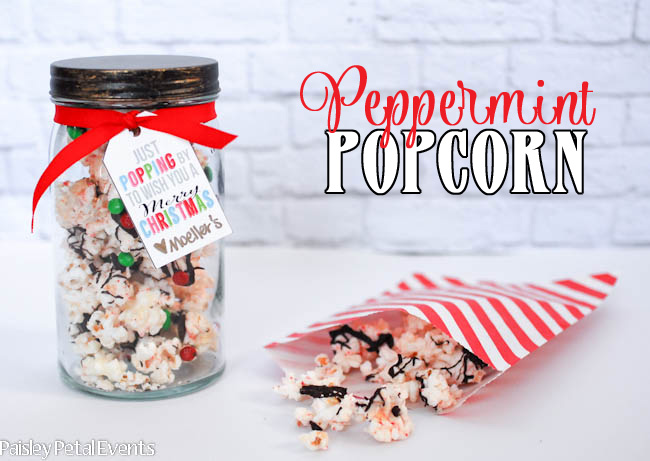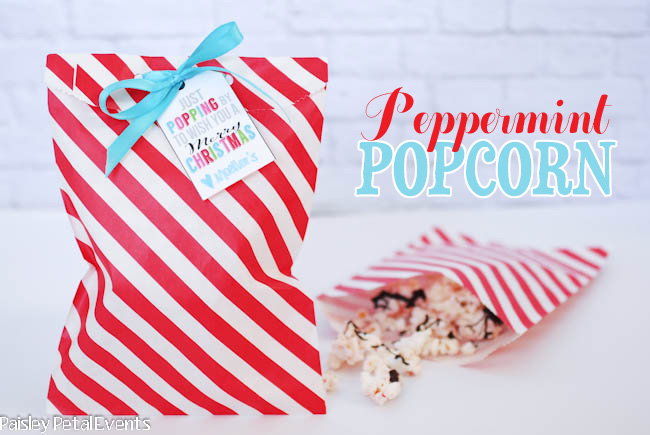 You can package your popcorn in almost anything – I used a melamine berry basket, a glass mason jar and patterned paper bags, but you could also place the popcorn in a cellophane bag, a small tin container, or even a chinese takeout container.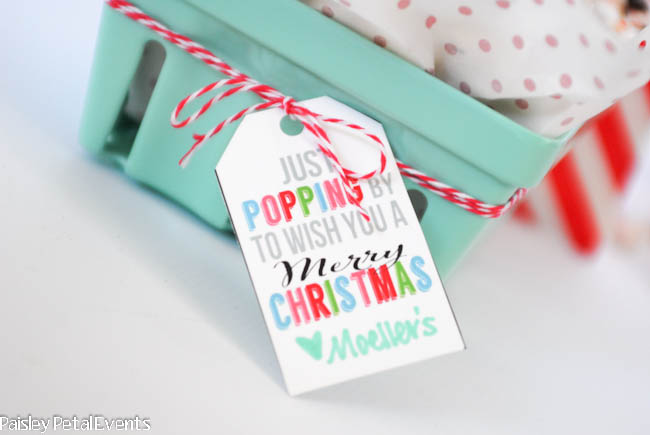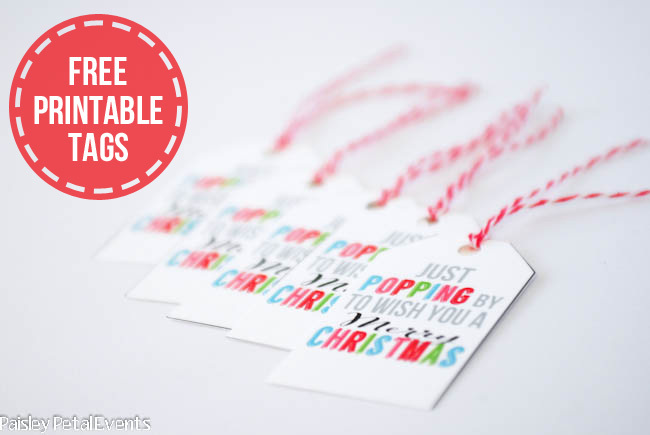 I even created a fun little tag to attach to your treats, just to make them a little more special. 😉 Use ribbon or baker's twine to attach your fun printable tag to whatever container you wish!