Yay, it's Friday!! I'm looking forward to the weekend, as I'm sure everyone else is. I'm especially loving the fact that there's nothing on my schedule for Saturday (like basketball games, dance rehearsals, etc.) which means I'll have a nice, productive day! AND I'm excited because it's Fave Fonts Friday, where I get to share some of my current font crushes. So far we've covered some of my favorite free script fonts, handwritten fonts and today it's my favorite free display fonts.
By display, I mean that these fonts are best used at larger sizes. They would be very hard to read at smaller sizes like 10 or 12 points. They're great for headlines and when you really want your text to stand out. All of these are sans-serif fonts (meaning they don't have the little lines at the end of the letters) and I'll do another post with some of my favorite serif display fonts.
Are there any here in this collection that you don't have or would like to download? Simply click on the name of the font below the image and it will take you to the website where you can download and add to your collection. I won't tell you how to install fonts on your computer because Mac's and PC's are different, so if you're not sure, just google "how to install fonts on your computer" and you'll find tons of tutorials. It's very simple though, trust me!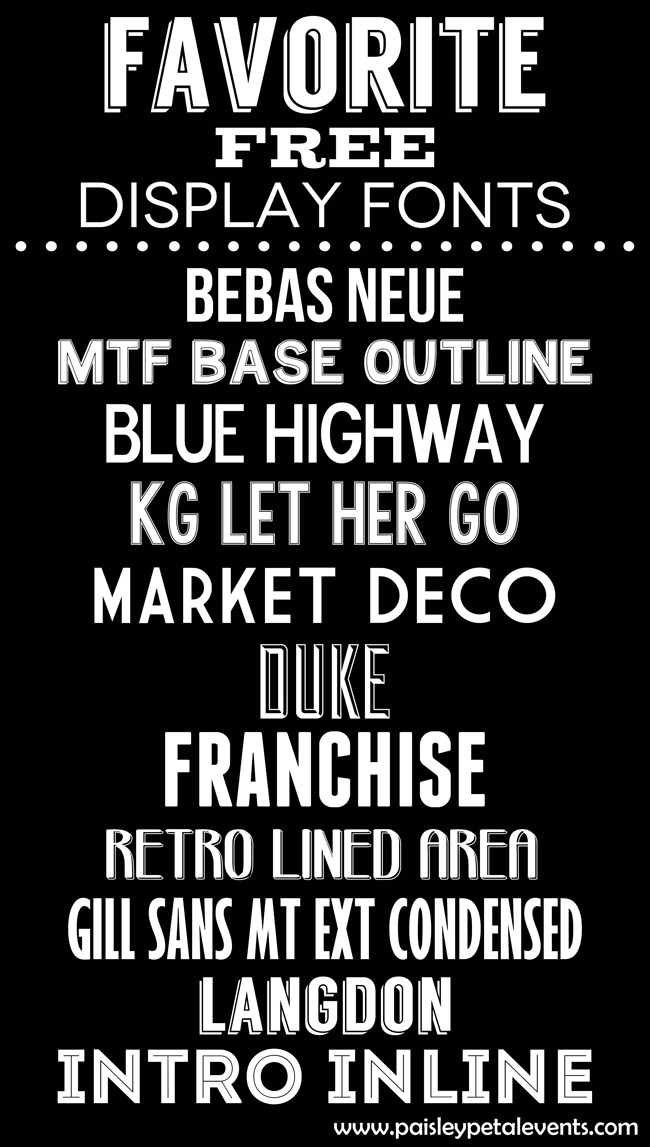 Bebas Neue | MTF Base Outline | Blue Highway | KG Let Her Go | Market Deco | Duke | Franchise | Retro Lined Area | Gill Sans MT Ext Condensed (should already be on your computer) | Langdon | Intro Inline
Do you have a favorite display font that's not on my list?? I LOVE finding new fonts so let me know your favorites in the comments below!!