Remember when crepe paper streamers and a "Happy Birthday" lettered banner were pretty much the typical birthday party decorations? Oh, and maybe a couple of balloons thrown in there, just for fun. Well, that was pretty much the standard at my house growing up, but boy how things have changed since then!
The craziest party decoration I've ever made were these 8 foot tall surfboards for my son's Surf's Up party last summer. They took some time, but turned out fabulous!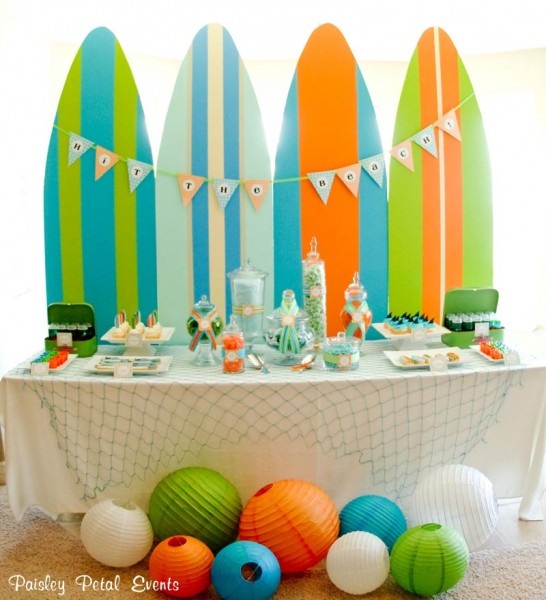 I absolutely love that now there are so many fun, creative and relatively easy ideas to add some pizzazz to your birthday celebration and make it memorable for the birthday boy or girl.
Here's a twist on the standard crepe paper streamers: fringed streamers. I decided to give these a try because they're simple, inexpensive and don't require a whole lot of time.

All you need is crepe paper sheets (not the rolls) and a pair scissors. I found the crepe paper sheets at my local party supply store. I couldn't find them at the craft stores Michael's or JoAnn's. You can also buy a pair of Martha Stewart fringe scissors to make this project even easier.

Fringed Crepe Paper Streamers
1. Cut a 2-3″ piece of crepe paper from your large sheet
2. Cut slits to the center of your paper about 1/2″ apart
3. Cut slits down both sides of paper, making sure not to cut through to the other side
4. Separate and then ruffle/mess up one side of cut streamer
5. Ruffle other side and unroll to hang

You can use these fun streamers for all sorts of things…hang them from a chandelier…


or in front of a window…

Use them for a table runner or make a whole bunch to create a really cool photo backdrop!
How do you typically decorate for your birthday parties? Do you keep it simple, or go all out? I want to hear!!