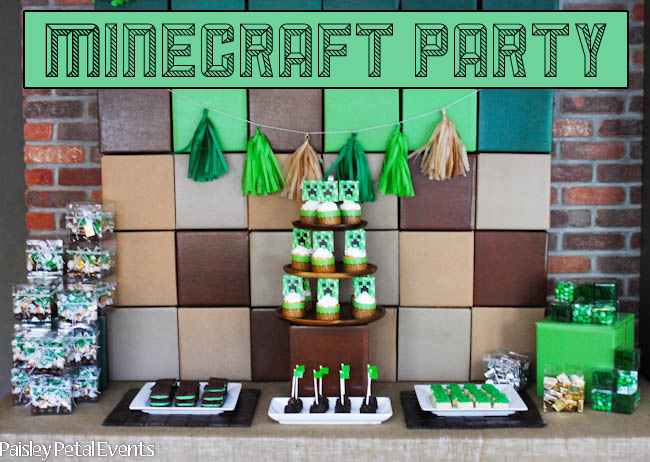 I've been meaning to post this party forever so I'm finally just doing it! I'm going to try and get all the other parties I did last year posted as well so be prepared for party overload – sorry! 😉
My cute sister-in-law created this Minecraft party for her 5 year old son who is totally obsessed with Minecraft. I'm sure many of you can relate to Minecraft-obsessed kids, huh?!

One of my favorite elements was this cool creeper made out of paper plates – genius! And of course, the tissue tassels are awesome too.

This fun banner hung in the party area.
The backdrop for the dessert table was made out of spray painted cardboard boxes in coordinating Minecraft colors.





Desserts included cupcakes with Creeper toppers & coordinating wraps, chocolate cake pops, yummy homemade oreo cookies (as our family calls them) and grass covered rice krispie treats.




For favors, the guests could take home various types of Minecraft-inspired candy packaged in clear square boxes such as gold & silver Hershey nuggets, shades of green M&M's and green gummy bears.

I love how she decorated a simple white cake with the fun banner and creepers!
Hopefully you got some fun ideas to help you plan those upcoming Minecraft parties for those Minecraft-obsessed kids! 🙂