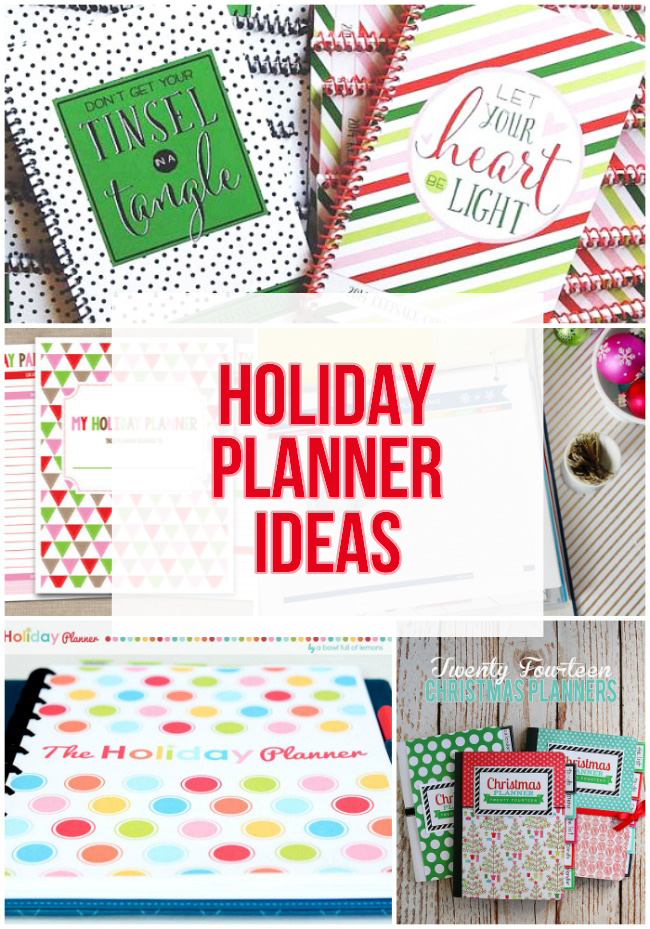 Let's talk Christmas for a minute…how organized are you when the holiday season rolls around?? I'll be honest and let you know that I am not very organized when it comes to Christmas or Holiday planning. I usually make a list in a random notebook of all the people I want to send Christmas cards to, along with another list of everyone to buy gifts for and jot down ideas for each of them as they come to me and then a cost or price for each item. Oh, and another list for neighbor gifts. That's the extent of my holiday planning. And every year I tell myself that I'm going to be more organized and get things done sooner so I can enjoy the holiday season and it doesn't ever happen. Sound familiar??
I spotted a post on Instagram that included a cute little Christmas planning notebook and just LOVED the idea! So today I thought I'd share some ideas for holiday planners to help save your sanity this season.

These are the Christmas planners I spotted on Instagram from One Swell Studio. I love the 2 designs that are available and I also love that they're already printed and bound for me & includes 60 pages of organizing goodness. I ordered mine today and can't wait for it to arrive so I can start using it!!

If you'd rather go the printable route, A Bowl Full of Lemons has fun & colorful holiday planner pages that you purchase, download and add to your own binder. This one's an 8.5″ x 11″ size so it's a little larger, but will fit in any large binder and includes 12 printable pages.

If you want to get a little crafty, you could create your own 2014 Christmas planner using a composition notebook, like the girls at eighteen25 did. Their post includes printables and instructions to make your own planner.

Purchase these cute instant download holiday planning pages to keep you sane in a fun pink, red, green & brown color scheme from Ink Obsession Designs.

I Heart Organizing (one of my favorite blogs!) has some FREE printable holiday planning pages for you to download and add to your own holiday planning binder. I always love Jen's designs.
So, what do you think?? Are you going to use one of these nifty holiday planners to keep you sane this year? Or do you already have a great system in place? I'd love to hear in the comments below!