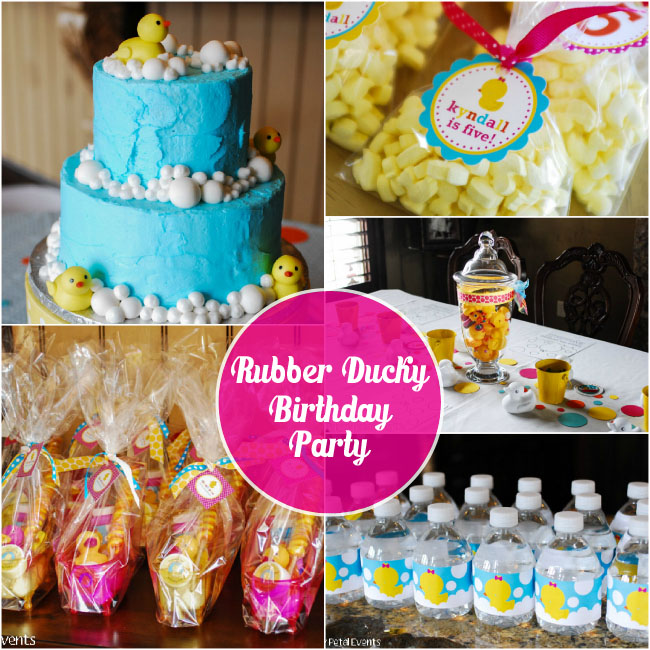 I'm excited to share another one of the fun parties I planned last month – a Rubber Ducky birthday party for a sweet little 5 year-old girl who LOVES rubber duckies!

To welcome the little girls to the party, I decorated the front door with hanging rubber ducky printable signs.

As guests arrived they were directed to the activity table where we had set up some crayons and coloring pages to keep them busy until everyone arrived. They also painted individual rubber duckies to take home with them.

The birthday girl's mom informed me that her daughter loved polka dots in addition to rubber duckies, so I made sure there were plenty of polka dot elements throughout the party including the paper dots for a simple table runner, and lots of polka dot balloons (which I managed to take NO pictures of!).



The cake table was also scattered with polka dots and the fun yellow feather boas just added to the decor.

The cake was probably my favorite! I couldn't stop taking pictures of it and those little fondant duckies were so stinkin' cute!



The little girls also played a rubber ducky matching game and these darling yellow duck candies were their prizes.


The party favors included a rubber ducky (of course!), a swirly lollipop stick, a duck eraser, bubbles with a matching printable wrapper, and personalized rubber ducky lip gloss. Everything was placed in these darling bathtubs I found in the dollar spot at Target with cotton balls as the filler.


A rubber ducky party would be a great theme for a baby shower or 1st birthday party as well. For more Rubber Ducky party ideas, visit my Rubber Ducky Pinterest Board!
Vendors
Invitation & Party Printables – Stockberry Studio
Cake – Sprinklebelle Cakes
Duck Candy, Erasers & Bubbles – Amazon.com
Lip Gloss – Big Dot of Happiness