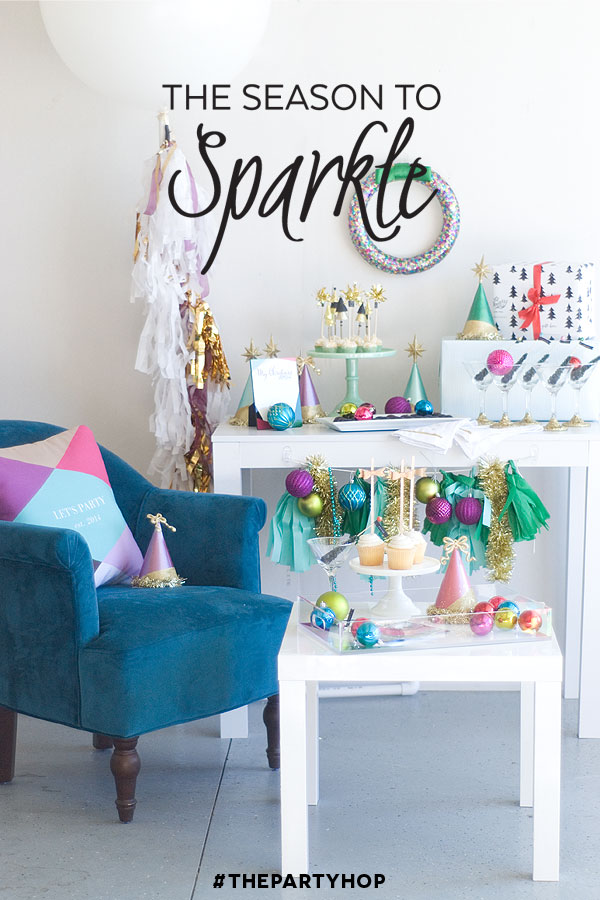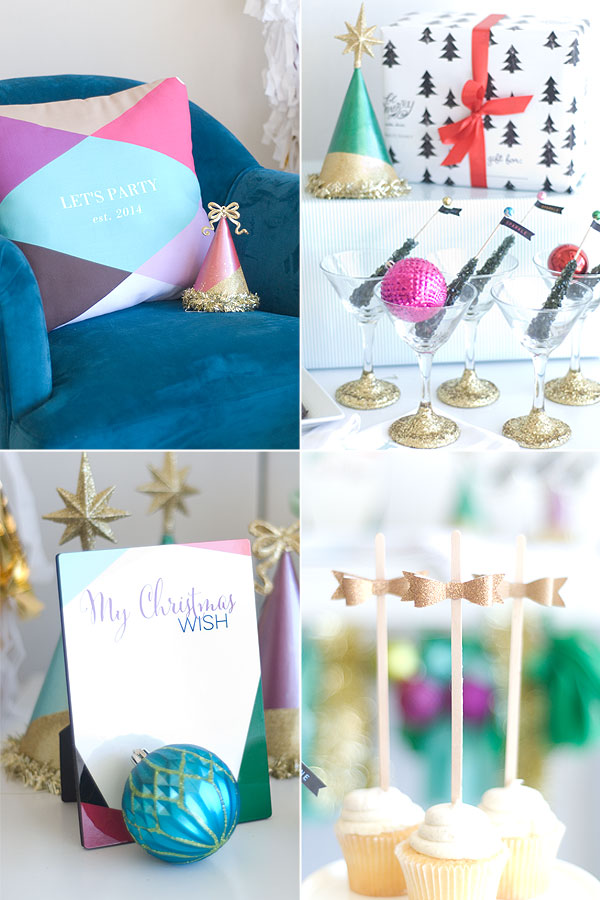 Welcome to day 4 of our Season to Sparkle party hop! Hope you're gathering some fun ideas for those upcoming holiday parties! I'm excited to share my contribution to the party today – some fun DIY glitter bow cupcake toppers, along with fabulous balloon fringe and and a festive garland for your party decor.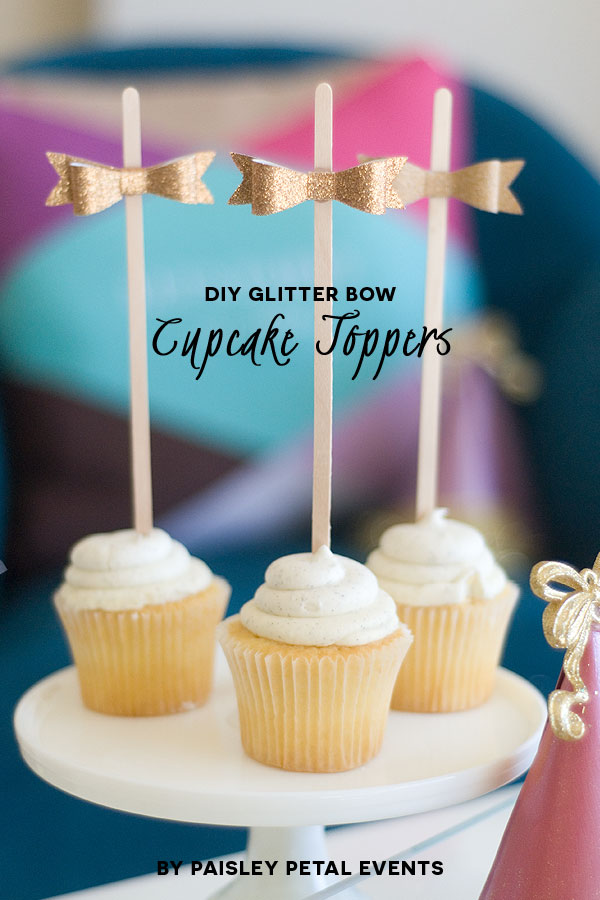 In case you haven't noticed, I'm completely obsessed with gold right now and I'm just in love with these cute little glitter bows – I want to add them to EVERYTHING!!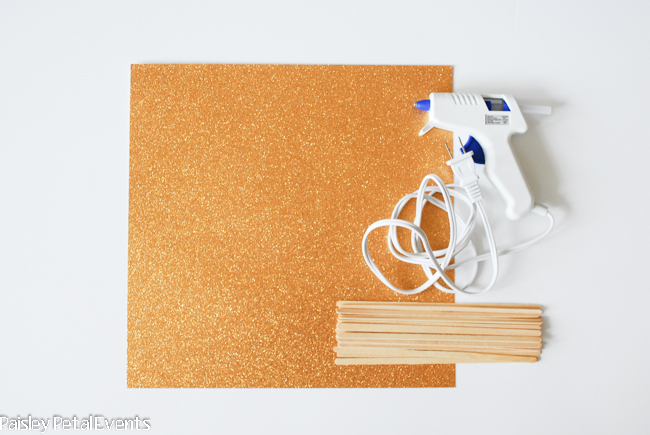 To make these darling bows, you just need a couple of things: glitter paper, wood sticks (mine are 7.5″) and a glue gun. I recommend a low-temp glue gun because your fingers will most likely be touching the hot glue a little bit to make these small bows 🙂 You might also need some scissors if you don't have a cutting machine.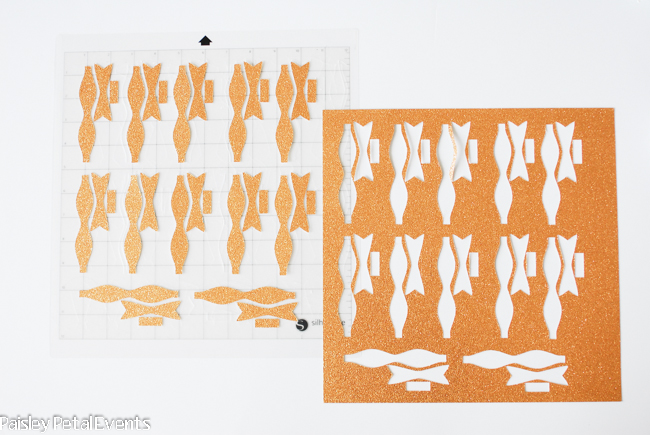 I used my Silhouette cutting machine to cut out the 3 pieces of my bow, using this shape and sized to 4.23″ x 1.67″. You don't have to use a cutting machine to make these bows, it's just is a lot quicker. Lia Griffith has a great paper bow printable that you just print onto the back of your glitter paper and then cut out by hand with scissors.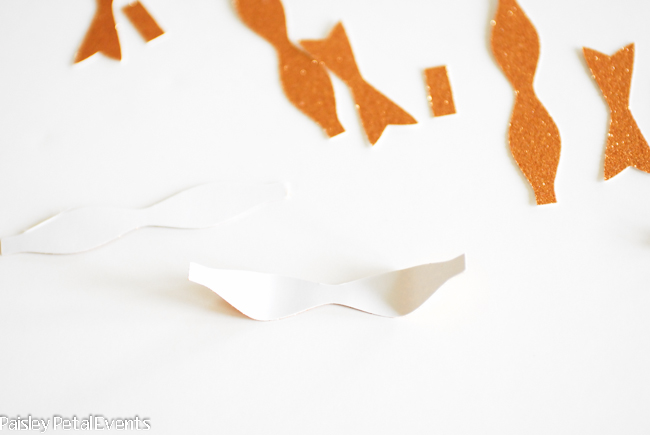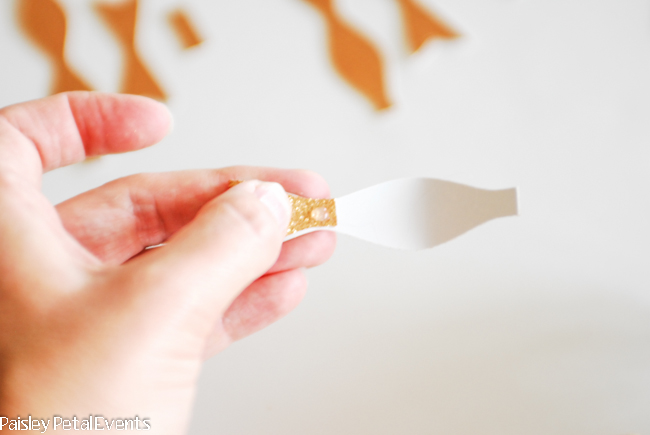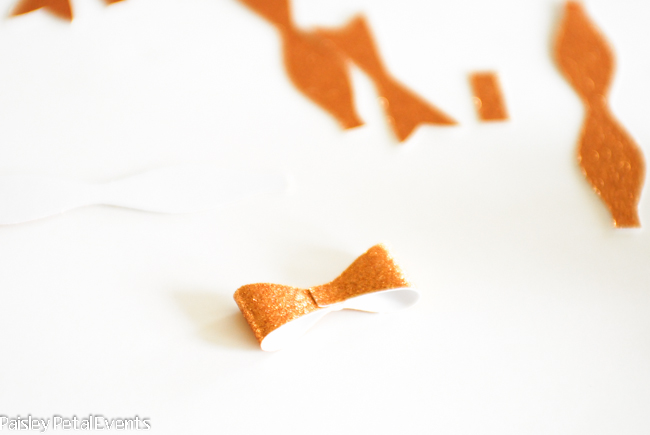 Now it's time to assemble your bows. Take your bow shaped piece and fold the two edges in to the middle of the bow, using a dab of hot glue to hold the two ends in place.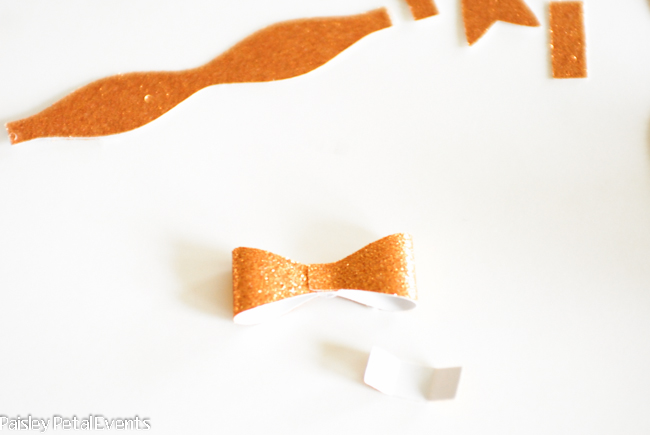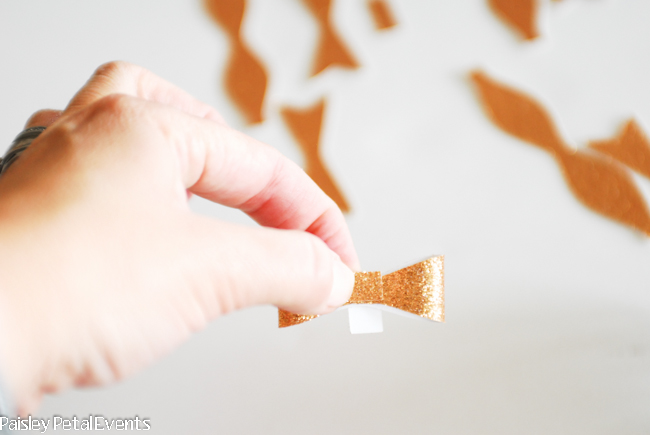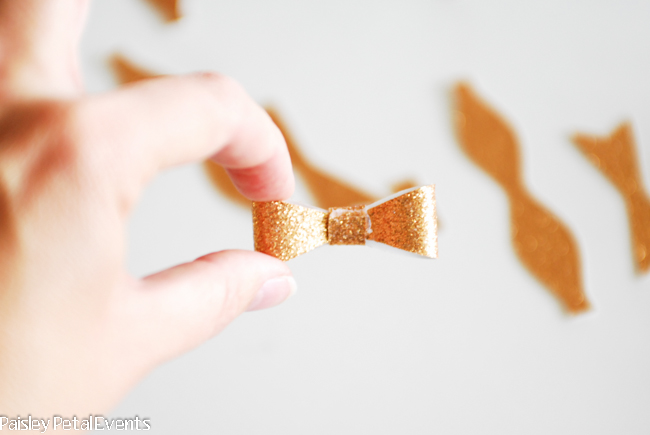 Next, take your small rectangle piece and wrap it around your bow, again using a dab of hot glue to hold the piece in place. You can see the little bit of hot glue on the back of my bow – that's ok since it won't be visible anyway.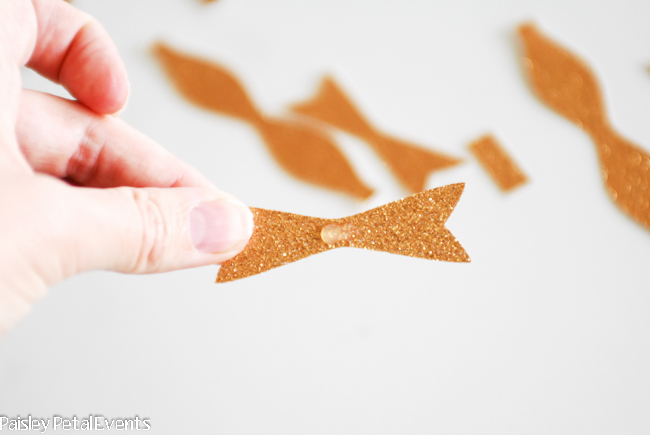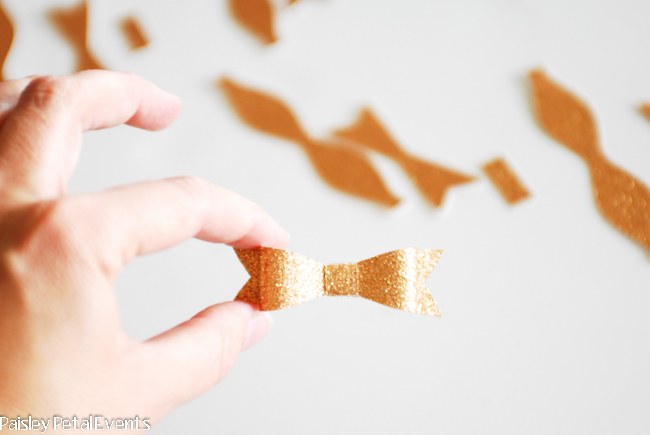 Add a dab of hot glue to the tail piece of your bow and attach your already made bow.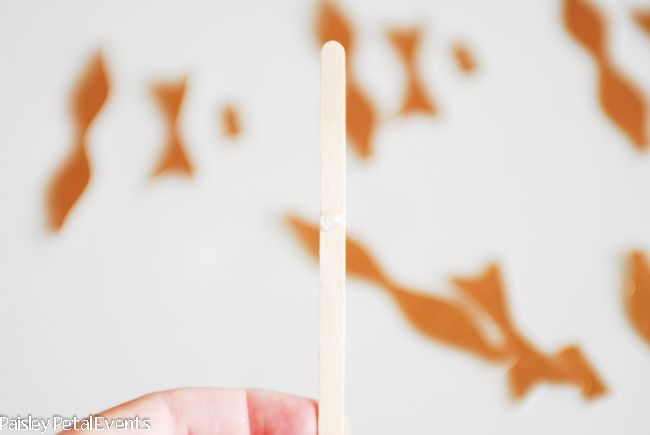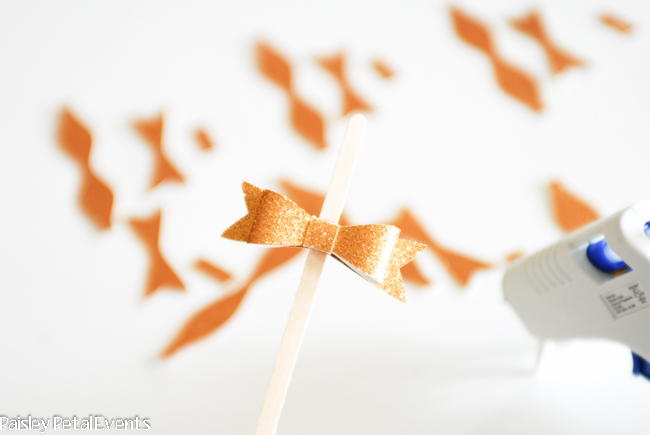 Last step is to add a dab of hot glue about 1 inch down from the top of your stick and attach your finished bow.
Bam! You're done! How simple was that??!!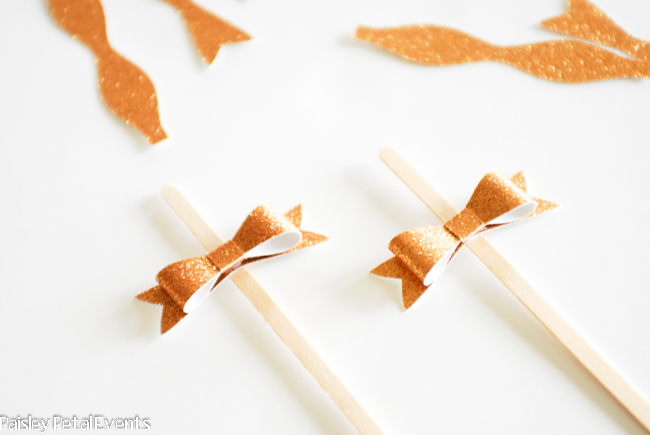 2 cute finished gold glitter paper cupcake toppers – aren't they cute??!!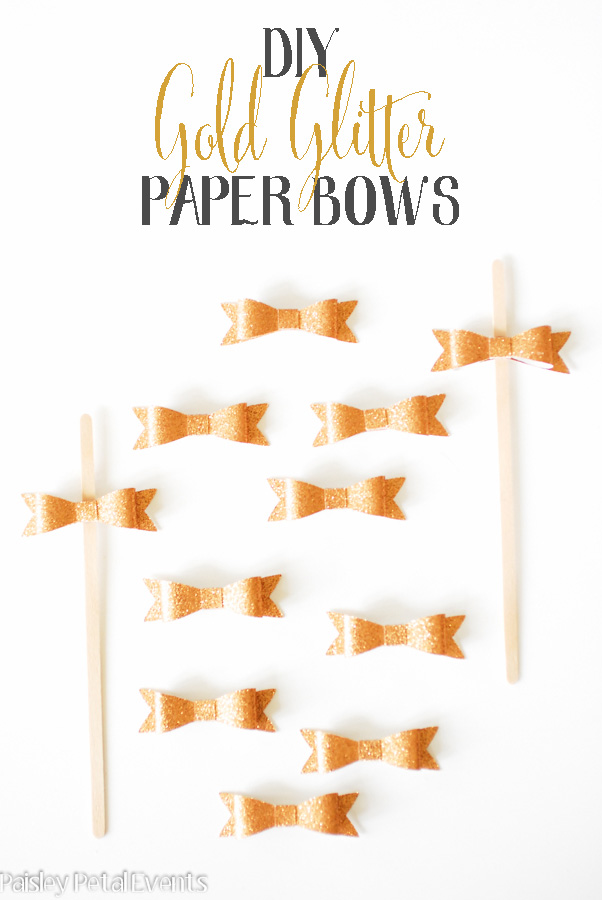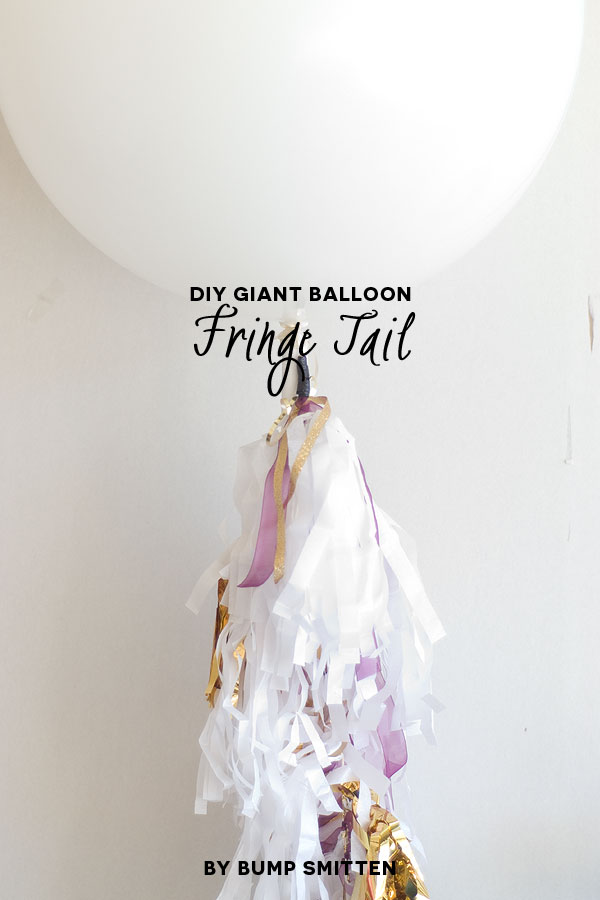 And don't forget to hop over to Bump Smitten to learn how to make this awesome balloon fringe tail.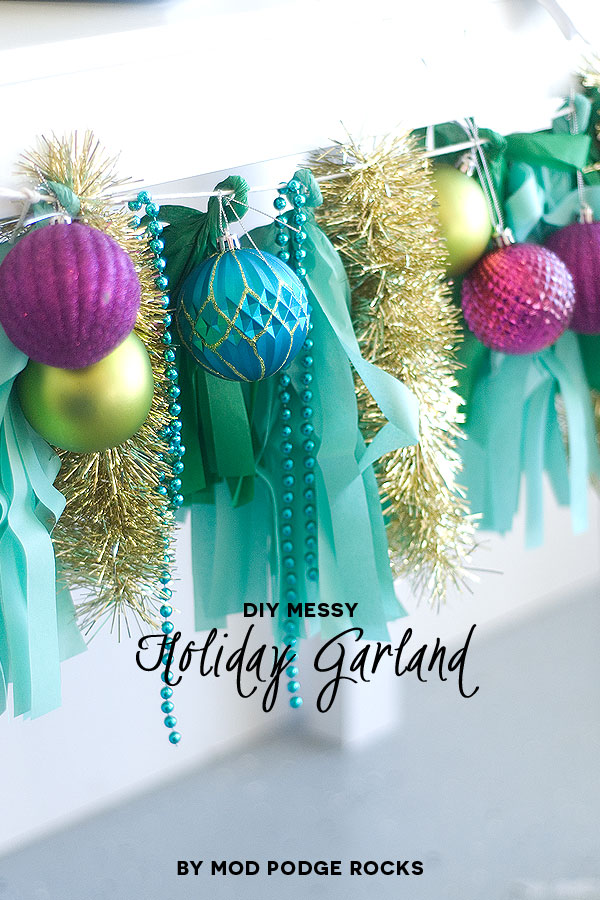 Along with this messy holiday garland from Mod Podge Rocks.
If you love this idea, I'd love for you to share with your friends via Facebook, Pinterest, or Twitter by clicking on the buttons below!